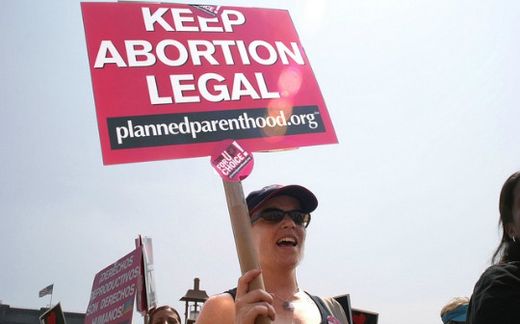 A federal judge on Wednesday
struck down
North Dakota's "fetal heartbeat" law, seen as the most restrictive abortion ban in the country.
The law, House Bill 1456, essentially banned abortions at six weeks. Barring a medical emergency, the law said that an abortion could not be performed if a fetal heartbeat can be detected, which can happen as early as six weeks - a point at which a woman may not even know she is pregnant.
In his ruling, U.S. District Judge Daniel L. Hovland writes that "there is no question that North Dakota House Bill 1456 is in direct contradiction of United States Supreme Court case law addressing restraints on abortion. H.B. 1456 is an invalid and unconstitutional law based on the United States Supreme Court precedent in
Roe v. Wade
from 1973,
Planned Parenthood of Southeastern Pennsylvania v. Casey
from 1992, and the litany of cases that have followed."
North Dakota's law, therefore, "cannot withstand a constitutional challenge."
In contrast to the Supreme Court's decision, North Dakota posited that "viability occurs at the point of conception," yet the state "has presented no reliable medical evidence to justify the passage of this troubling law," Hovland's decision states.
The Center for Reproductive Rights, which had filed suit to challenge the constitutionality of the law on behalf of the state's only abortion-providing clinic, welcomed the ruling.
Hovland's decision "puts a stop to this attempt by North Dakota politicians to send the women of their state back to the dark days before Roe v. Wade, when reproductive health care options were limited at best and deadly at worst," stated Nancy Northup, president and CEO with the Center for Reproductive Rights.
"The court was correct to call this law exactly what it is: a blatant violation of the constitutional guarantees afforded to all women. But women should not be forced to go to court, year after year in state after state, to protect their constitutional rights," Northup continued. "We hope today's decision, along with the long line of decisions striking down these attempts to choke off access to safe and legal abortion services in the U.S., sends a strong message to politicians across the country that our rights cannot be legislated away."
Yet reproductive rights in North Dakota face further challenges, with the state Supreme Court still reviewing a ban on medication abortion. In addition, in November North Dakota
voters will decide
if personhood rights should be granted to embryos from the moment of fertilization.