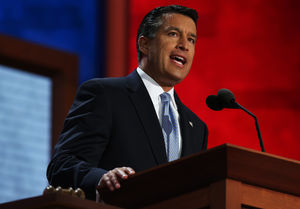 Nevada's governor is criticizing a federal cattle roundup and what he calls "intimidation" in a dispute with a rancher who claims longstanding grazing rights on open range outside Las Vegas.
Federal Bureau of Land Management and National Park Service officials didn't immediately respond Wednesday to Republican Gov. Brian Sandoval's call for the BLM to "reconsider its approach."
Sandoval says he's most offended that federal officials have tried to corral people protesting the roundup into a "First Amendment area."
Federal officials say 277 cows have been rounded up since Saturday from a 1,200-square-mile area that it has closed to the public for the operation about 80 miles northeast of Las Vegas.
The BLM says Bunkerville rancher Cliven Bundy has allowed his cattle to trespass and graze for decades in the area.
Bundy, a descendant of Mormons who settled in Bunkerville more than 140 years ago, claims an inherent right to graze the area and casts the conflict as a states' rights issue. He said he doesn't recognize federal authority on land that he insists belongs to Nevada.
His dispute with the government dates to 1993, when land managers cited concern for the federally protected desert tortoise and capped Bundy's herd at 150 animals on his 158,666-acre Bunkerville allotment of rangeland.
Bundy protested by withholding his monthly grazing fees and kept using the range. The BLM canceled his grazing permit in 1994. A federal court in 1998 ordered him to remove the animals, and federal authorities in 1999 officially closed the Bunkerville allotment to cattle.
Conservationists say the cows eat scarce forage needed by wildlife including the tortoise and horses.
Federal officials tried to round up Bundy's livestock two years ago, but he refused to budge.
Since then, he has lost two federal court rulings - and a judge last October prohibited him from physically interfering with any seizure or roundup operation.
"Wake up America," Bailey Bundy Logue told KSL-TV. "Look what our ancestors fought for and we need to stand up for that. We need to realize what's happening. They are taking everything away from us. This isn't only about one family. This is about everyone's family. This is martial law and it's in America and so what are you going to do to have it stay out of America?"
In a statement called what the Bundys have been doing "unfair."
"Cattle have been in trespass on public lands in Southern Nevada for more than two decades. This is unfair to the thousands of other ranchers who graze livestock in compliance with federal laws and regulations throughout the west," the statement reads. "The Bureau of Land Management (BLM) and the National Park Service (NPS) have made repeated attempts to resolve this matter administratively and judicially."