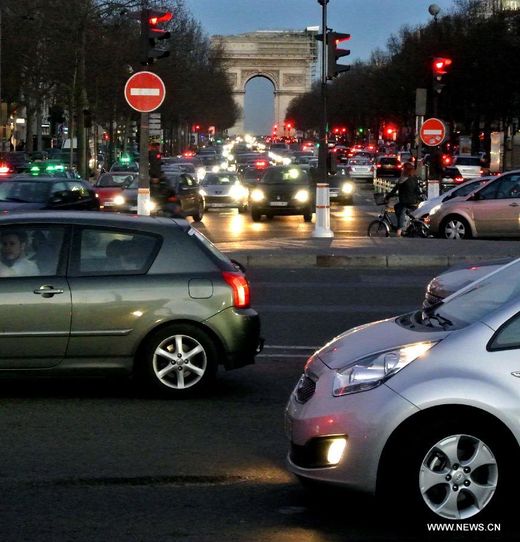 France is limiting vehicle use in the capital Paris on Monday amid a spike in pollution to health-threatening levels, only the second time the drastic measure has been introduced in nearly two decades.
A system of "alternating traffic", whereby vehicle use is restricted to alternate days depending on licence plate numbers, came into effect in Paris and its 22 surrounding suburbs at 5.30 am (04.30 GMT) on Monday, as the city tries to curb
dangerous pollution levels
.
The radical move has seen around 700 police officers deployed to 60 checkpoints around the French capital to ensure that only cars with number plates ending in odd numbers are out on the streets.
Parking is free on Monday for vehicles with even number plates, the Paris city hall said, calling on residents to consult carpooling or car-sharing sites to work out their travel plans.
A decision will then be taken as to whether to extend the measure into Tuesday "depending on how the situation evolves", a statement from the office of French Prime Minister Jean-Marc Ayrault said, with odd numbers potentially banned on Tuesday if an extension is deemed necessary.
Electric and hybrid cars will be exempted from the ban as well as any vehicle carrying three people or more.
It is the first time since 1997 that the French authorities have resorted to such a drastic measure.
"The Prime Minister is aware of the difficulties that this may cause to the everyday lives of Parisians" the statement said. "But this is a necessary measure."
Free public transport
Paris and much of northern France have been suffering under high pollution levels for several days after an extended period of cool, dry nights with much warmer daytime temperatures - climactic conditions that do not allow pollutant particles to disperse.
On Friday, Paris transport authorities announced that travellers could use
public transport for free
throughout the weekend due to the "significant risks to the health of residents" posed by the pollution spike. It will remain free as long as the alternate driving days remain in force.
Friday saw pollution levels in the Ile-de-France region, which includes Paris, hit peaks of 180 micrograms of particulate matter per cubic metre of air, far beyond the maximum alert level of 80 micrograms.
(FRANCE 24 with AFP)