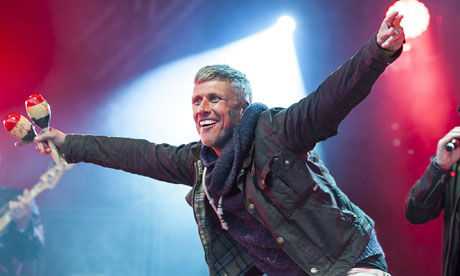 Happy Mondays star Bez has reportedly announced plans to stand for parliament at next year's general election.
The wacky dancer said he hopes to become MP in his home town of Salford, and plans to run on a platform of redistributing wealth, tackling cancer and dementia, and an end to all war.
The 49 year-old, best known for shaking the maracas with the 1980s band, told the Manchester Evening News he plans to "stir things up" in his bid to succeed former Labour cabinet minister Hazel Blears.
He told the paper: "I've been saying we need a revolution, and there's no good shouting about it when you're not actually doing anything.
"If you want to do something about things you've got to get into the corridors of power and take them on."
The 2005 Celebrity Big Brother winner accused the political establishment of operating a policy of "divide and rule" and vowed to create a "new world order".
Bez, whose real name is Mark Berry, said: "If you're voting for me, you're voting as a protest about what's happening in the world at the moment."
He pledged to end the current banking system, redistribute wealth, and promote a more sustainable environment.
And the keen beekeeper said he also hopes to "end illness" and "get everybody back to an alkaline state".
He is expected to stand as an independent candidate when he contests the safe Labour seat.
Bez is not the first pop star who has ventured into the world of politics.
Blur drummer Dave Rowntree stood as the Labour party candidate for the Cities of London and Westminster seat at the last election - but lost to the Conservatives.
And former Fugees frontman Wyclef Jean tried to stand to become president of his native Haiti - but was forced to abandon his bid because he had not lived in the country long enough.
Source: Press Association