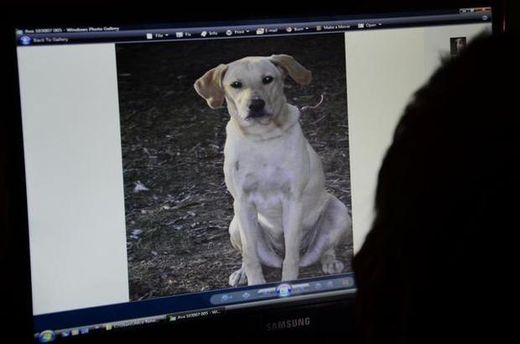 Rock Hill - Alice Renee McGlone says her cats Rhett Butler and Tara will have to go on without Scarlett - - her 9-year-old Labrador retriever - - after a York County Sheriff's Office deputy shot and killed the dog when, he says, it charged him aggressively on Tuesday.
McGlone's friend Ron Montana buried Scarlett on Wednesday afternoon in her backyard, under a tree, on Clara Street in Rock Hill. Montana and McGlone say they're outraged that the deputy used lethal force.
But, sheriff's officials say the deputy had no choice but to protect himself from the dog.
"He hated to have done what he did but we teach our officers that they need to protect themselves in all situations," said Capt. Allen Brandon. "It's regrettable what happened."
Scarlett was a friendly dog and warmed to strangers easily, McGlone said. After adopting the dog from a shelter at six weeks old, she and Scarlett were "inseparable."
On Wednesday, Scarlett's body was covered by a teal blanket in McGlone's yard. Before Montana buried the dog, McGlone knelt beside Scarlett and held her paw.
Montana and McGlone say they don't understand how a deputy felt so threatened by Scarlett that he shot her.
On Tuesday, two deputies went to McGlone's house just before 4 p.m. after McGlone's daughter called police to say she hadn't heard from her mother since Feb. 26. McGlone had been sick, she explained, and her phone was dead on Sunday night when her daughter in Virginia tried to call.
When deputies arrived for a routine welfare check, no one was home. There were no cars in the driveway and deputies noticed a broken window screen, pulled away from a window on the side of McGlone's house.
They tried knocking on McGlone's front door first but got no response, according to a sheriff's office report.
As one deputy, Jonathan Reed, knocked on a window at the rear of McGlone's house, he saw her dog "charging" and "snarling with bared teeth," with its head lowered, the report states.
As Reed "retreated," he saw that the dog was on a leash, he wrote in the report. "However, I saw that the leash was long enough to allow the dog to reach me before I could get away."
With no time to "yell at the dog or use a less lethal deterrent," Reed wrote, "I instinctively drew my handgun and fired once, striking the dog in the top of the head."
The one shot killed Scarlett. Reed was not injured during the incident.
The sheriff's office has reviewed the audio from Reed's body microphone, which was worn while he was at McGlone's home. The time in which Reed had to retreat or avoid injury by the dog, Brandon said, was just seconds.
When Reed turned the corner of the back of the house to knock on a window, there were no signs of a dog in the backyard, Brandon said. It's possible that Scarlett was in her doghouse on the other end of the yard when Reed turned the corner.
Reed has been with the sheriff's office for at least five years, Brandon said. It's rare, he said, that any deputy would have to resort to killing an animal while on duty.
But, in the course of nearly 70,000 calls for service a year, he said, law enforcement officials face a lot of unknowns when arriving on scene.
During property or welfare checks like the one at McGlone's house, dispatcher workers and deputies often are not told by family members that a dog or other animal will be on scene. But, Brandon said, "that's good information to have."
It helps keep animals and officers safer, he said, when more information is given to dispatch and relayed to officers.
Scarlett usually protected the house by barking when someone pulled in the driveway, McGlone said, but the dog had never shown signs of aggression. Typically, Scarlett stayed inside with McGlone.
When deputies arrived on Tuesday, Scarlett was on a leash or a tie-out, attached to a run line strung between two poles in the backyard. Even if her dog was aggressive toward the deputy, McGlone said, she thinks the deputy would have had enough room and time to back away.
And, Montana said, he thinks the deputy should have realized there was a dog in the backyard before proceeding to the back window. He pointed out that the leash was not fully extended and, based on where Scarlett was killed, it appeared the deputy had shot at "point blank range."
A sign that reads "Bad Dog" was attached to Scarlett's doghouse in the yard. Montana says the sign was put there as a joke by one of McGlone's relatives.
After Tuesday's shooting, one neighbor told Reed on Tuesday that Scarlett had tried in the past to bite his niece, causing him to call Animal Control, the report states.
The Herald
could not reach that neighbor on Wednesday.
York County Animal Control officials told
The Herald
that the department has no record of a call regarding an aggressive animal at McGlone's residence or the neighbor who talked with Reed. It's possible that the neighbor complained about the dog to another agency, thinking he was calling Animal Control, said Steve Suber, the agency's director.
Police records show that a warning was issued in January at the home for a leash law violation for the dog running loose, Brandon said. McGlone said sometimes Scarlett would get off her leash but that another neighborhood dog often ran loose and some people would blame her dog for those problems.
A neighbor across the street from McGlone's house said she was shocked at the news because she thought Scarlett "was a sweetheart dog," said Shana Renzema. She didn't see or hear Tuesday's incident.
She and her children sometimes had helped take care of McGlone's dog while she was away. She'd never noticed aggression or behavior problems with Scarlett.
After McGlone was notified on Tuesday that a deputy had killed her dog, a sheriff's office supervisor met with her at her home. The sergeant seemed "compassionate" about the loss of Scarlett, McGlone said. He offered to have Animal Control remove Scarlett from her yard.
McGlone says she can't even think about replacing Scarlett. Her grandmother - who died in December - had helped pick Scarlett out from the shelter. She adopted Scarlett and her two cats Rhett Butler and Tara around the same time.
"She just attached herself to us. It was love ever since," McGlone said.
As Montana dug a hole in the yard for Scarlett's burial, McGlone sat inside her home, looking at pictures of Scarlett, as her cats meandered around the yard and onto the porch.
McGlone was still in disbelief, she said, and wished she'd done things differently before leaving the house on Tuesday.
"Something told me to just bring Scarlett in and I didn't. And I beat myself up for that."