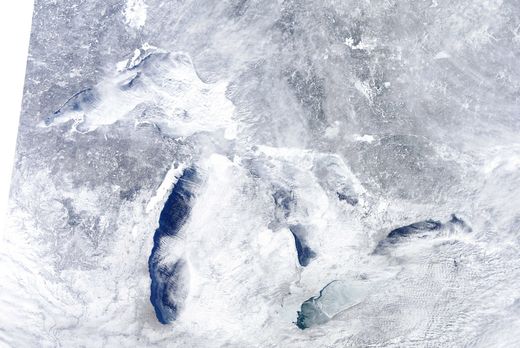 Like a boxer who knocked his rival to the mat and who then gets down on his knees to keep pummeling the poor guy, the wicked winter of 2014 may not be done with us yet.
Federal officials Wednesday marveled at the size of the ice sheet that as of this week covered 91 percent of the Great Lakes. That ice cover could produce problems long into the spring.
A fast melt could produce ice jams in rivers and streams that in turn cause flooding, said George A. Leshkevich, a scientist with the National Oceanic and Atmospheric Administration's Great Lakes Environmental Research Laboratory.
And even if that doesn't happen, Leshkevich said, this winter's deep freeze could make the spring colder than usual, as winds whipping off the frozen lakes continue to chill communities just when it's supposed to be getting warmer.
Leshkevich and Keith Kompoltowicz, chief of watershed hydrology for the U.S. Army Corps of Engineers in Detroit, joined reporters on a conference call Wednesday to discuss the effect all the snow, ice and cold might have on lake levels.
For Lake Erie, they projected minimal changes.
But for people who live near streams and rivers leading to the lake, trouble may await. That's because streams and rivers are iced over, too.
"You could have runoff and ice jams, and any number of those things could result in flooding," Leshkevich said. "Especially if you get a quick melt, you could get significant flooding in those areas."
On top of that, 96 percent of the surface of Lake Erie is frozen. Even though that percentage is likely to shrink with warmer temperatures in the coming week, longer-term forecasts call for more cold later in March, and that might not be the end of it, Leshkevich said.
Deep into the spring, "the ice cover could allow the air to remain cold," he said. "So yes, there is the potential for cooler conditions as air moves over the lake."
Conditions are better in Lake Ontario, which is so deep that it never freezes to the same degree as the other lakes. Forty-three percent of the lake was ice-covered as of Tuesday.
But even the melting of Lake Erie ice and snow is not projected to end the trend of lower water levels.
"For Lake Erie, we expect water levels to remain above where they were a year ago but still slightly below average," Kompoltowicz said.
That's partly because there's less snow on the ground in the territory surrounding Lake Erie than near the other lakes.
Lake Erie's "snow-water equivalent" - the amount of water added to the lake when the snow melts - is currently a mere 1.8 inches, thanks in part to a brief February warm-up that melted some of the snowpack.
That warm-up didn't extend to Lakes Michigan and Huron, where between four and eight inches of water will be added to the lakes when the snow melts,
or to Lake Superior, which is expected to rise an astounding 9.5 inches.
The weather in the northern Great Lakes basin makes Buffalo's winter seem not so bad after all.
Whereas Buffalo just surpassed the 100-inch total for snowfall last week, Gaylord, Mich., has recorded 162.6 inches. And Petoskey, Mich., has seen 167.3 inches of snow. Both cities are in the Lake Michigan snow belts.
So by summer, could a dip in Lake Erie on a warm day erase all memories of the wicked winter past?
Don't be so sure.
Given all the ice on the lakes, "we could have cooler water temperatures through the summer and fall," Leshkevich said.
...
Lake ice nearing historic levels
The Great Lakes may challenge the 1979 record for ice coverage.
94.76%
Feb. 19, 1979: Record for ice cover on the combined lakes
91.0%
March 4, 2014: This after the lake ice nearly hit 90 percent in February
89.01%
Feb. 14, 1994: Last time lakes were 89 percent iced over
Note: Records first kept in 1973