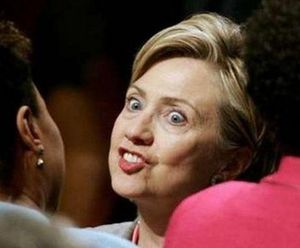 Former Secretary of State Hillary Clinton on Tuesday compared recent
actions by Russian President Vladimir Putin in the Ukraine
to those implemented by Adolf Hitler in the late 1930s.
Putin's desire to protect minority Russians in
Ukraine
is reminiscent of Hitler's actions to protect ethnic Germans outside Germany, she said.
Putin has been on a campaign to give Russian passports to anyone who has Russian connections, Clinton said.
The Russian leader has recently done so in the Ukrainian peninsula of Crimea, which, Clinton said, is similar to what happened in Nazi Germany in the late 1930s. Hitler resettled tens of thousands of ethnic Germans who were living in parts of Europe to Nazi Germany.
Clinton made her comments at a private event benefiting the Boys & Girls Clubs of Long Beach.
"Now if this sounds familiar, it's what Hitler did back in the 30s," she said. "All the Germans that were ... the ethnic Germans, the Germans by ancestry who were in places like Czechoslovakia and Romania and other places, Hitler kept saying they're not being treated right. I must go and protect my people and that's what's gotten everybody so nervous."
Last week, Putin put Russian troops on the Ukrainian peninsula in Crimea, insisting that Russia has a right to protect its interests and
Russian-speakers in Crimea and elsewhere in Ukraine
. However, there has been no sign of ethnic Russians facing attacks in Crimea, where they make up about 60 percent of the population, or elsewhere in Ukraine. The decision followed a new government coming to power last week in Ukraine following months of pro-democracy protests against the now-fugitive president, Viktor Yanukovych, and his decision to turn Ukraine toward Russia instead of the European Union.
Putin is a man "who believes his mission is to restore Russian greatness," Clinton said.
That includes reasserting control of what used to be countries under the former Soviet Union and the Warsaw Pact, she said.

Comment: No, it primarily includes reasserting control of his own country, that was looted and decimated in the 90's by people like you.


"When he looks at Ukraine, he sees a place that he believes is by its very nature part of Mother Russia."

Comment: Unlike you and your people, who see it as a pile of resources and as a golden opportunity to inflict more suffering onto a population of humans.


If Ukraine and Russia are to reach any kind of compromise, negotiations may start in Crimea, Clinton said.
"I think that's where the negotiations will start," she said.
Clinton, a possible Democratic presidential candidate in 2016, also noted that
Secretary of State John Kerry is in Kiev
while Russia has agreed to meet with NATO in Brussels.
"So everybody is hoping that there will be a negotiation but a negotiation that respects Ukraine and doesn't ratify a reoccupation by Russia of Crimea," she said. "So it's a real nail-biter, right now, but nobody wants to up the rhetoric. Everybody wants to cool it in order to find a diplomatic solution and that's what we should be trying to do."
Clinton was in downtown Long Beach for a private event benefiting the Boys & Girls Clubs of Long Beach.
She and her husband, former President Bill Clinton, are major supporters of the national organization, which recently announced a partnership with The Clinton Foundation to give nearly 4 million at-risk children in the U.S. more access to nutritious foods. It's a partnership that began with pilot programs throughout the U.S., including Los Angeles County.
Clinton arrived after 1 p.m. at the law offices of Kessal, Young & Logan, where she took pictures with some of the 250 people who attended the event, including Mayor Bob Foster and several city officials.
After talking about the importance of the Boys and Girls Clubs work with children, Clinton spent about 40 minutes answering questions that ranged from what her favorite Girl Scout cookie is - it's peanut butter - to breaking barriers to her opinion on the Affordable Care Act.

Comment: Blah, blah, blah.


On being a trailblazer for women, Clinton said she has been fortunate to have opportunities that were not available to her mother and grandmother.
"I've been lucky, but I've also been up against the barriers and attitudes," she said. "When I was coming up, there were scholarships I couldn't get, schools I couldn't go to."
While she sees an enormous sea change in opportunities for women, Clinton said their participation, particularly in Congress and in corporate boardrooms, is "pretty abysmal."
"Young women still today need mentoring and support and encouragement, and we need to do a better job in helping to deal with this difficult balance between work and family," she said.
Clinton mentioned her work on a project called No Ceilings, an effort to measure the progress women have made in the past 20 years. She said there needs to be a focus on helping women who are still deprived of education, health care and the right to vote and other issues.
Clinton also spoke about the federal gridlock, which she finds "deeply disturbing."

Comment: Blah, blah, blah.


"That's not how a great country should operate," she said.
On the issue of health care, Clinton said she was proud of what President Barack Obama has achieved in signing the Affordable Care Act, which she said is already making a difference in many people's lives. She touted the act's emphasis on preventive care, which she advocated, the ability for adults to keep their children on health insurance until they are 26 and an insurer's inability to discriminate against those with pre-existing medical conditions.
"There's just an enormous amount of good in this bill," she said, "and I think a lot of the characterization of it has been somewhat distorted."
She acknowledged there are problems with the law that need to be addressed as things move forward, such as trying to keep costs down, ensuring that subsidies are sufficient and finding a way to pay for Medicaid.
"My hope is that all of these negative depictions of it don't throw the baby out with the bath," she said.
"But let's stay committed to the goal of quality affordable health care for every American because it's the right goal and over the long run it's a smart economic position as well," she said.

Comment: Blah, blah, blah.