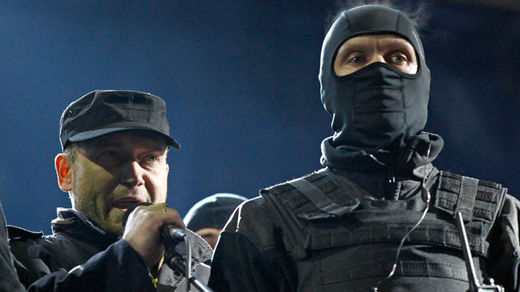 A leader of the Ukrainian radical group Pravy Sektor (Right Sector), Dmitry Yarosh, has called on Russia's most wanted terrorist Doku Umarov to act against Russia in an address posted on Right Sector's page in VKontakte social network.
The statement points out that
"many Ukrainians with arms in the hands"
supported Chechen militants in their fight against Russians and
"it is time to support Ukraine now."
The message, signed
"leader of Right Sector Dmitry Yarosh"
then calls on Umarov
"to activate his fight"
and
"take a unique chance to win"
over Russia.
Yarosh, who is a self-proclaimed deputy secretary of the National Security and Defense Council of Ukraine, leads the far-right militant Right Sector group. He used to be a leader of radical nationalist group Trident, which became the core of Right Sector.
The radical leader has been consistently anti-Russian in his statements, calling for the destruction and division of the
"Moscow Empire"
and openly supporting Chechen militants and Georgian aggression.
Yarosh believes Russia is Ukraine's
"eternal foe"
and has said that war between the two countries is
"inevitable."
At the same time, the Right Sector leader said Ukraine should be
"careful"
with its future EU membership, as the
"bureaucratic monster of Brussels"
is
"doing everything to bring to naught the national identity"
of EU member countries.
During the recent riots in Ukraine, Yarosh rejected any negotiations with the Ukrainian government, calling on his supporters to defy the truces and agreements of the government and the opposition.
The Russian Foreign Ministry's commissioner for human rights Konstantin Dolgov said that Moscow awaits the West's reaction to Yarosh's appeal to Umarov.
"The Ukrainian neo-fascist Yarosh has appealed to terrorist Umarov," Dolgov wrote on Twitter. "Does the West place their stake on such Ukrainian 'democrats'? Will they react to this?"
Umarov, who commanded groups of militants in both Chechen wars and organized several large terror acts, is the most wanted terrorist in Russia. Umarov has claimed responsibility for several attacks on Russian civilians, including the 2010 Moscow Metro bombings and the 2011 Domodedovo International Airport bombing, which killed dozens of people and injured hundreds.
In March 2011,
Umarov was put on the UN Security Council's Al-Qaeda and Taliban Sanctions Committee list of individuals
. The US government has also announced a $5 million reward for information leading to the terrorist leader's capture.
The self-proclaimed 'Emir of the Caucasus Emirate' routinely recorded video addresses, in which he incited terror attacks against Russian government forces and civilians. He last appeared alive in a video posted on the internet in summer 2013, calling to step up terrorist activities and thwart the 2014 Sochi Winter Olympics. Umarov's long absence led rumors of his death to spread, but so far this has not been officially
confirmed
.