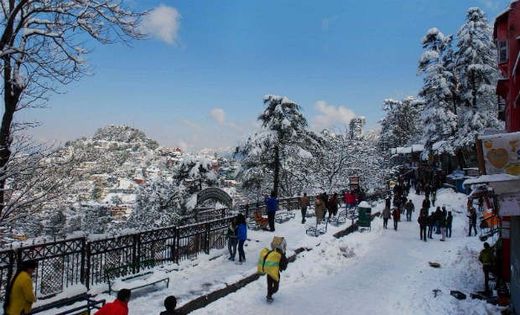 Heavy snowfall in many parts of Himachal Pradesh on Sunday has bring down temperatures and affected the normal life.
The state capital Shimla which experienced the coldest night at minus 2.4 degrees Celsius and key tourist resort of Manali were cut off from rest of the state due to heavy snowfall.
People remained without milk, bread, vegetables and other commodities and there was no supply of newspapers in the morning.
All schools in the Shimla district have been closed for tomorrow following heavy snowfall.
A large number of cars skidded due to slippery road conditions disrupting traffic at several places while hundreds of vehicles were standard at various places in Shimla and Kinnaur districts.
The Kalka-Shimla and Bilaspur-Shimla roads were opened after clearing snow in the afternoon while Hindustan-Tibet National highway was closed beyond Shimla.
However, the National Highway was opened upto Rekong Peo in Kinnaur via Dhami-Basantpur-Kingal and power supply to Rekong Peo has been restored.
The Kinnaur district and upper Shimla region remained cut off for the third day today and power supply was partially in Sangla after three days while Pooh, Malling and other areas were cut off, Kinnaur DC Capt JM Pathania said.
Rohroo, Jubbal, Chopal and Nerwa areas of Shimla were cut off due to heavy snow at Khara-Patthar while Manali-Kiratpur road was opened for light vehicles upto Manali.
The region had widespread snow and rains till past midnight and Bijahi recorded 20 cm of snow followed by Manali and Bharmaur (15 cm each),Kalpa(14),Mashobra(13), Shimla (11), Jubbar Hatti (3) and Keylong 1 cm.
Rains lashed the mid and low hills. Solan received a maximum of 19 mm of rains followed by Mandi (18), Bhuntar in Kullu and Jogindernagar (16 each), Karsog and Kasauli (15 each) Gaggal in Kangra (14), Bilaspur and Dharamshala 9 mm each.
The minimum temperatures decreased marginally and Bharmaur recorded lowest temperature at minus 17 degrees Celsius while Keylong and Kalpa recorded minimum temperatures at minus 14 deg and minus 8.8 deg, followed by Manali minus 6.0 degree, Bhuntar and Chamba 1.0 deg, Nahan 1.7 deg, Sundernagar and Kangra 2 deg,?Una 3 deg, Bilaspur 3.7 deg, Dharamshala 5.8 deg and Hamirpur 7.5 degrees Celsius.
There was marginal decrease of 1 to 2 degrees in maximum temperatures with Una recording a high of 20.2 degree followed by Kangra 17.5 deg, Sundernagar 16.4 deg, Nahan 15 deg, Dharamshala 14.8 deg, Bhuntar 14. 5 deg, Solan 14 deg, Shimla 9.4 deg and Kalpa 1.0 deg C.
The local MeT department has predicted dry weather in high, mid and low hills in the next 48 hours.