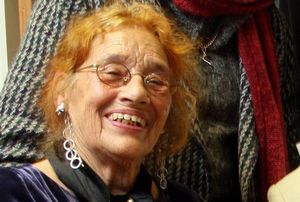 Margaretta D'Arcy, the acclaimed Irish writer and peace activist, is serving a three-month prison sentence in Ireland for her protests at the US military use of Shannon airport.
She could have avoided the jail term if she had agreed to sign a bond to uphold the law and stay away from unauthorised zones at Shannon. She refused to do so and was taken into custody last Wednesday (15 January).
But the Irish authorities have been confronted with a torrent of protest, and a measure of embarrassment, since D'Arcy, who is 79 and suffering from cancer, was incarcerated in Limerick prison.
She has been visited by Sabina Higgins, wife of Ireland's president, Michael D Higgins. And protests on behalf of D'Arcy have been growing day by day. Some 240 artists have called for D'Arcy's release, including journalist Nell McCafferty, film-maker Lelia Doolan and former UN assistant secretary-general Denis Halliday.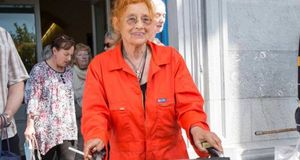 Yesterday's demonstration outside the Dail - as in the video above - was attended by several politicians, journalists, writers and supportive members of the public.
Former staff of the late, lamented
Irish Press
will spot one of their old colleagues, the poet Hugh McFadden, among the protestors.
D'Arcy is no stranger to prison, having been arrested on dozens of occasions down the years. She was a campaigner against the Vietnam War and British involvement in Northern Ireland. She also joined the Greenham Commons peace camp.
Her latest arrest has certainly heightened interest in, and opposition to, what D'Arcy has called "acts of unfathomable criminality" by the American military at Shannon.
She lives in Galway and, apart from receiving treatment for cancer, also suffers from arthritis in her neck.
Sources:
Irish Times
/
Irish Independent