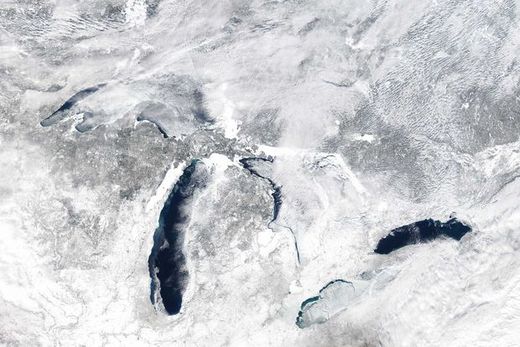 Ice continued to build this past week on the Great Lakes due to the cold air and temperatures staying below freezing, and Lake Superior's new record shows it.
The lake is 92 percent frozen, toppling a 20-year-old record of 91 percent set on Feb. 5, 1994. That statistic helped total Great Lakes ice cover soar, and we can expect to see more form in coming days.
The air temperatures this past week averaged around five degrees below normal for the Great Lakes area. This amount of deviation from normal means it was a fairly cold week.
As of February 5, 2014, the entire Great Lakes system is now reportedly covered 77 percent with ice, according to the
Great Lakes Environmental Research Laboratory.
Last week at this time the ice cover was 66 percent. The 77 percent ice cover now still lags behind 1994, when the entire Great Lakes system had an average ice cover of 84 percent on February 5. This data is according to Jia Wang, physical oceanographer at the Great Lakes Environmental Research Center in Ann Arbor, MI.
Let's look at each individual lake.
Lake Superior
Lake Superior is almost frozen over as of yesterday February 5, 2014. Lake Superior is 92 percent covered with ice now.
The ice has increased rapidly in the past week, from 76 percent ice cover on January 30, 2014. The high resolution satellite picture from February 3, 2014 shows all of the ice cover on Lake Superior. The current ice cover on Lake Superior is the highest amount ever for February 5. In 1994, Lake Superior was reportedly 91 percent covered in ice.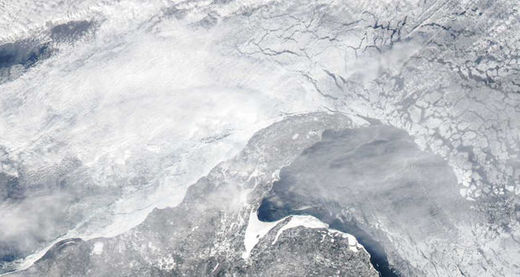 Lake Michigan
Lake Michigan is now 51 percent covered with ice, as opposed to 42 percent at this time last week. Coyotes were seen walking on the ice just offshore of Chicago this week. This makes us wonder if the lakes freeze over totally, will animals from Canada be able to cross over Lake Huron or Lake Superior, and enter Michigan. It is thought that this is how the last wolverine spotted in Michigan made it into Michigan. Lake Michigan has been covered with more ice on this date in the past. In 1977 and 1996, Lake Michigan was up to 74 percent ice covered.
Lake Huron
Ice cover on Lake Huron rocketed up an additional 14 percent this week, climbing to a
total ice cover of 86 percent. If the ice continues to build at that rate in this next week, Lake Huron could be almost frozen over, or frozen over by the end of next week
. People ice fishing are reporting 24 inches of ice on Saginaw Bay near Bay City. Lake Huron has been as much at 95 percent covered in ice on this date back in 1981 and 1994.
Lake Erie
Lake Erie is the shallowest of the Great Lakes, with an average depth of 62 feet and a maximum depth of 210 feet. It also has the least volume of any Great Lake, with 116 cubic miles of water. So it should come as no surprise that Lake Erie currently has the highest percentage of ice cover.
Lake Erie is 96 percent covered with ice
. Last week at this time Lake Erie had 94 percent ice cover. Erie was entirely ice covered on February 5, 1996.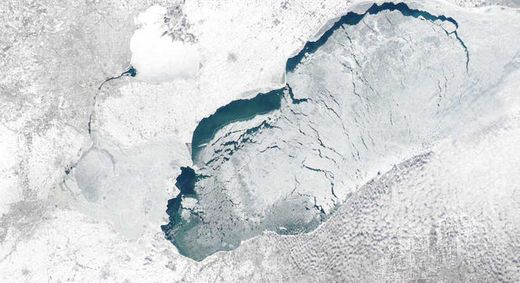 Lake Ontario
Lake Ontario is an interesting lake. It is the smallest Great Lake when it comes to surface area, but actually holds more than three times the amount of water when compared to Lake Erie. The average depth of Lake Ontario is 283 feet, making it the second deepest Great Lake behind Lake Superior. The deepest spot in Lake Ontario is 802 feet. The ice cover on Lake Ontario is the lowest of any of the Great Lakes, with only 32 percent covered in ice. Last week at this time, Lake Ontario had 27 percent ice cover. Lake Ontario has been covered with as much as 79 percent ice up to this point in the winter in 1994.
Will ice continue to grow?
The ice cover should continue to grow at a rapid rate based on temperatures expected in the next few weeks. You may not want to hear this, but I don't see several days in a row cracking the freezing mark until at least February 21. There could be a few hours above freezing late next week, but that won't slow the ice growth. Also, the weather pattern is going to be fairly quiet in the next two weeks. This means lower wind speeds around the Great Lakes, which should help accelerate ice cover growth.
It is going to be close, but we may be living in a historic winter with regards to amount of Great Lakes ice.
We will see some fascinating ice sculptures if we get a big wind that breaks the ice, and piles it up.
We will also be fascinated when the ice has melted, and we see spring.