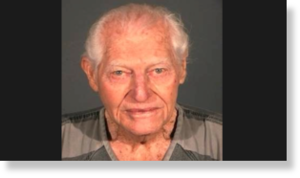 A man who
shot his wife of 63 years to death
last week in a Nevada hospital said he felt he had no other choice.
"She was paralyzed from the neck down and very uncomfortable without much of a future, so I just helped her along," the 88-year-old William Dresser told the
Reno Gazette-Journal
.
Dresser was released on $225,000 bond Friday, was charged with open murder in the Jan 19 fatal shooting of his wife, 86-year-old Frances Dresser, who suffered from a fall earlier this month and struck her chin.
"She had a fall, and paramedics came and got her and took her to the hospital, and therapists worked on her," Dresser said Wednesday. "We had a meeting with the staff and therapists, and there wasn't anything to be done and she was to be paralyzed the rest of her life."
Dresser said his wife told him she no longer wanted to live.
Investigators said Dresser went with a .22-caliber pistol and four bullets to Carson Tahoe Regional Medical Center, where he shot his ailing wife once in the chest before the gun jammed.
He was taken into custody before he could fix the gun, and Dresser told police he had planned to shoot himself next.
Frances Dresser died two days later at Renown Regional Medical Center.
Open murder covers first-degree murder to manslaughter, but prosecutors have already said they would not seek the death penalty in the case.
A preliminary court hearing has been set for Feb. 7.
Dresser said he loved his wife very much and "never had any problems" with her since they met in 1948.
A neighbor agreed, saying he saw the couple outside just a week earlier sitting in lawn chairs.
"They were some of the finest people you could ever meet," said neighbor Richard Seasman. "They've always been super close together. Never heard a disagreement among them in 25 years."
One of the couple's three children is staying with him after he had been placed on suicide watch at the Carson City Jail, but the Carson City sheriff said Dresser appears to have "a clear head on his shoulders right now."
The newspaper asked Dresser why he killed his wife, and he had a simple answer.
"
The fact that she had no future and was miserable and begging to die.
"