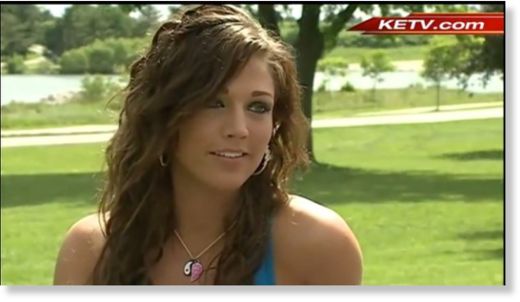 An adult model was
sentenced
to jail time for sneaking onto the campus of her former Catholic high school to take raunchy photos, which included the highly unorthodox use of a crucifix on herself.
Valerie Dodds was found guilty in a bench trial last month of trespassing and public nudity for the May 13 stunt at her former high school, and Judge Thomas Fox sentenced her Friday to 45 days in jail.
Dodds filed notice of an appeal and was released later the same day on $75 bond.
The 19-year-old Dodds performs under the name Val Midwest, and she said she posed for the photos and
posted them online as revenge against former classmates and teachers
at Lincoln Pius X High School who criticized her for her post-graduation career choices.
"Everyone at my high school had something rude to say to me when I started my website and so this is my tribute to all of you lol," Dodds wrote on her website. "I held nothing back I used my fingers, my toys and even my crucifix in my p*ssy! I used every part of the school I could get into, payback is a b*tch ha ha."
Her attorney, Chad Wythers, didn't ask for a specific sentence, but he argued that first-time drunken driving offenders cause more risk to others "than parading around naked," and most initial DUI convictions result in no more than a week in jail.
Wythers, had asked the judge to delay sentencing until Dodds could meet with her probation officer to make up an interview she'd missed, but Fox refused.
But prosecutors argued that Dodds has shown no remorse at all for her actions.
"I think she deserves jail for what she did," said Christine Loseke, of the city attorney's office.
Shortly after Dodds was cited last spring, she said she was considering a photo shoot in "pasties and panties" at the Lincoln County Courthouse.
Fox sentenced the adult model to a 30-day sentence for trespassing and 15 days for public nudity.
With credit for good behavior, Dodds must serve at least 30 days if her sentence is held up on appeal to the Lancaster County District Court.