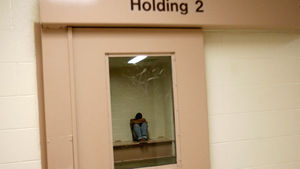 Michigan prison officials needlessly housed juvenile inmates with adult convicts, where the guards then ignored allegations that the young inmates were sexually abused and essentially used as currency inside the facility, according to a new lawsuit.
Brought forth by seven unnamed juvenile prisoners, the case hinges on the idea that the Michigan Department of Corrections (MDOC) has consistently failed to keep prisoners under the age of 18 apart from the more hardened adult inmates. It alleges that at least two of the plaintiffs were repeatedly raped because their older cellmates were selling access to the younger ones. It goes on to implicate corrections officers for allowing the rape to continue.
"MDOC staff was aware of the assaults and aware that male adult prisoners were paying John Doe 5's cellmate access for access to John Doe 5 for purposes of sexually assaulting him,
"
the suit claims.
Deborah LeBelle, an attorney based in Ann Arbor, told MLive.com that she was aware of the suit when it was initially filed in October, but decided to bring it back to light because of the seriousness of the allegations. When the suit was re-filed, it was classified as a violation of the Elliott-Larsen Civil Rights Act, a Michigan law that forbids differential treatment based on religion, race, color, national origin, age, sex, height, weight, familial status, or marital status.
LeBelle told the Michigan news site she was stunned that
teens who may have barely gone through puberty are locked up with adults
- which also increases their risk of recidivism.
"I didn't know the extent of the damage those choices had wrought in Michigan until I started talking to the youth,
"
she said. "And, I found it heartbreaking...If you put all of these together; I saw it as a tragic waste."
The class-action suit cites seven plaintiffs, but was filed on behalf of more than 500 others who have been put in dangerous situations because of treatment from staff and inmates. It also accuses the MDOC of violating the Prison Rape Elimination Act by failing to adhere to guidelines that demand prisoners under the age of 18 have no sight, sound, or physical contact with adult prisoners.
At least two prisoners claim they were not only raped by fellow convicts, but also victimized by MDOC staff.
"From late 2012 until early 2013, a female MDOC staff member repeatedly opened John Doe 4's cell for purposes of engaging in coerced sexual intercourse with him,
"
the suit claims.
Another has come forward to assert that he was sent to solitary confinement for reporting a staff member who let an older inmate into his cell to rape him.
"Upon his release from solitary confinement, John Doe 2 was physically assaulted again with a knife, resulting in a scar across the face and marking him as a victim and an ongoing target for other prisoners," the suit claims.
The victims are seeking more than $25,000 in damages. The suit was filed in Washtenaw Trial Court, with the MDOC, various MDOC staff members, and Michigan Governor Rick Snyder named as defendants.
The re-filing comes after the MDOC filed a motion to dismiss an unrelated lawsuit from the union representing corrections officers. Hundreds of guards previously signed onto a suit claiming the MDOC violated state and federal labor laws by refusing to pay corrections officers for time spent before and after each shift, when they made and received reports, inspected equipment, and received new assignments.