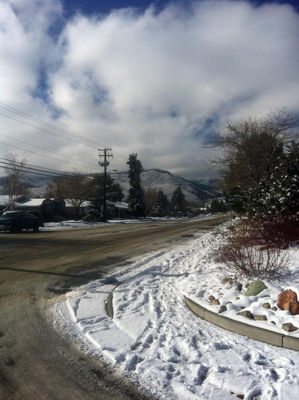 Yahoo News readers share their stories from the storm that's freezing the country
Heavy snow, freezing rain, slick roads and otherwise miserable winter conditions have stretched across a wide swath of the country, from normally toasty Las Vegas to the upper Midwest. On Thursday, the mercury in western Utah plummeted to more than 15 degrees below zero. In Austin, Texas, it was a chilly 34. Denver stalled at a frosty minus 10.
"This is unusual," says Andrea Kairis, a resident of Great Falls, Mont., where temperatures dipped to minus 13.
By Friday, the storm moved further east and blasted Texas, the Southern plains and the Tennessee Valley. The storm is expected to hit the Northeast this weekend.
Yahoo News is collecting anecdotes from residents in the storm's path. Below are lightly edited excerpts from stories they shared with us this week.
Friday
Hundreds of flights canceled at DFW
The first major storm of the season dumped at least three inches of sleet in parts of North Texas this morning, bringing with it cold temperatures that are expected to last through early next week.
Dallas resident Haley Henderson, a student at Dallas Baptist University, found the lack of preparedness for the storm by city authorities frustrating.
"I find our way of handling the weather to be inconvenient. It's unsafe that the entire city apparently ceases to exist under these conditions," she said.
All classes at DBU were canceled today, as well as night classes on Thursday. The campus will remain closed for the rest of the weekend, affecting various holiday activities such as the Fine Arts Christmas Festival.
American Airlines, American Eagle and Southwest Airlines have canceled nearly 1,000 flights to and from Dallas/Fort Worth International Airport and Dallas Love Field due to the storm. Captain John Carbonari, a pilot with American from Colleyville, has been unable to return to Texas due to the extreme weather.
"I was flying the East Coast the past four days and my last flight into DFW was cancelled," he said. "I wish I were there for the snow. My kids are out of school today horsing around in it."
- Stephen Boyd
North Texas freeze makes freeways a travel nightmare
DALLAS - Waking up Friday morning was far from normal for this Texan. I have adapted to 100-degree weather, but the ice and winter weather still send my senses into overload. It's not the urge to go out and slide down hills or build ice men in child-like fashion; instead, it's the dreaded "I have to go to work in this!" realization.
I began my trek at 8:30 a.m. from DeSoto, heading north to the Galleria Mall area. Getting out of my neighborhood was dicey, but the freeways below the Trinity River where navigable. Crossing the Trinity would be the first test of driving skill due to the rookie drivers that think ice on the bridge means hit the brakes!
I took the tollway to get the North Dallas because it was closer the ground than taking the overpasses that litter 35 and 635. No sweat, until I had to cross over 635. I quickly learned that the northern part of the city got it much worse than us down south.
I arrived at work safely only to hear that the temperature is going to drastically drop the rest of the day making travel home a nightmare. Thanks, Mother Nature. Thanks a lot.
- Rodney R. Fisher
Storm's brunt descends on St. Louis
ST. LOUIS - When I went to bed at midnight, it was still around 61 degrees outside. When I left for work this morning at 6, the temperature had already dropped to 39, and it was 29 at lunch time and still dropping. The wind has been blowing constantly since yesterday as the cold front was coming in; right now the winds are blisteringly cold and blowing heavily.
So far, we've seen a lot of precipitation, but nothing too dangerous. We had light rain this morning that turned to sleet around lunchtime, and continues to come down. The real precipitation is supposed to hit us later tonight; officials are expecting up to seven inches of snow in my area. Earlier predictions had the rain arriving at 3 p.m., turning to snow by 6 p.m. The estimates were a little off, as everything is moving much faster than predicted. Already the roads are slick, the parking lots are becoming slick and difficult to walk across, and power lines are freezing.
Schools where I live, on the Illinois side of St. Louis, sent students home this morning and have canceled all afternoon and evening activities. I went with a coworker at lunch and got sand bags for his truck. We were hoping this system would all go south of us, but it looks like we are going to get the brunt of the storm.
- Maggie O'Leary
Schools shut in Midland, Texas
MIDLAND, Texas - The sleet and occasional snowflakes, which remained relatively light through most of Thursday afternoon, became heavy in the evening.
Schools are shut down Friday, as officials opted for safety. On Friday morning roads were covered in ice, hampering traffic.
According to News West 9
, many events across the Permian Basin have been canceled.
Arctic blast heading across the country Play video
Normally, December temperatures are rather mild in Midland, with highs in the 60s and lows above freezing.
The Weather Channel reports
the average December high to be 61 degrees and the average low to be 32 degrees.
- Calvin Wolf
Surviving sub-zero weather in Glacier National Park
ESSEX, Mont. - The temperature at 7 a.m. today was minus 26. Now it is noon and we have warmed up to minus 21.
One reason for the extreme cold is that it is very clear and sunny. Friends in Whitefish tell me that it is beautiful at about minus 7, but there is a slight breeze creating a wind chill closer to minus 20. Whitefish Mountain resort will open tomorrow with plenty of snow for the skiers.
This extreme weather is both dangerous and scary. However, there are teams of people working to keep everything as normal as possible. For instance, I heard the first snow plow pass by my house at 6 this morning. It was right on time. They were doing maintenance as we have had no new snow lately. There is possibly six inches on the level that fell last Monday. Highway #2 is a major road even though it is only two lanes. It takes a tremendous effort to keep it open, especially through this canyon which runs from West Glacier to East Glacier.
- R.B. McNeil
Thursday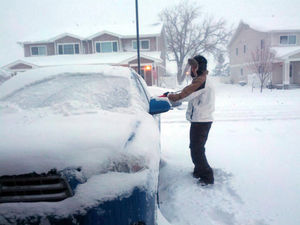 Whiteout conditions, snarled traffic in Great Falls
GREAT FALLS, Mont. - We're just one of the small cities scattered through the north that's been hit by the below-freezing temperatures and massive amounts of snow today.
Roads are slick, cars are spinning out at every turn, and lanes on the road are invisible. There have been dozens of crashes and slide-offs here in Great Falls, a town of about 60,000 in north-central Montana. Some areas experienced whiteout conditions. Some of us are lucky to be able to stay indoors while others face the dangerous drive to work.
But unlike in bigger cities in the Northeast, nothing here is shut down. Stores open at normal hours, kids have go to school, and adults must show up on time to work. Sub-zero temperatures here are expected every winter, and this year is no different. Great Falls accumulated six inches of snow on Tuesday, and temperatures in the area are expected to range from zero to 20 below into Thursday. Cold fronts and blizzards are typical about two to three times a year here, but not this early in the season. Temperatures in early December are usually in the 20s or low 30s, sometimes even into the teens.
- Andrea Kairis
Empty store shelves in Oklahoma signal wicked winter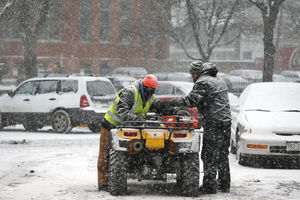 TAHLEQUAH, Okla. - Schools across the area have canceled classes for Thursday morning and Christmas parades and other events have been rescheduled or canceled altogether. A wicked winter storm is approaching.
I live in a rural town about an hour east of Tulsa. I began hearing reports around noon on Wednesday that the local stores were out of bread. The story was the same in many other towns across the state.
Around midnight, I decided to go take a look for myself. I was stunned to see the
Walmart parking lot still half-full and shoppers in almost every aisle. Customers were lined up at the registers, carts filled, waiting to check out. I made my way back through the store. The bread aisle was empty. Even the tortillas were gone. The chips and crackers were in short supply, and the toilet paper aisle looked looted.
The average December temperature in my county is 40 degrees, according to the
Oklahoma Climatological Survey
. At midnight, the temperature was 30 degrees and plummeting. We'll see lows in the single digits, with temperatures not rising above freezing for another week. But that's not the worst part of this winter storm. We're expecting heavy precipitation, including sleet and up to eight inches of snow.
- Tavia Fuller Armstrong
In Nevada: 'Snow happens. If you can't drive in it you are a liability.'
CARSON CITY, Nev. - The first major storm of winter dumped three to eight inches of snow in northern Nevada on Tuesday, bringing with it cold temperatures expecting to last throughout next week.
The National Weather Service reported a high of 27 Wednesday, with an overnight low forecast at minus 5 degrees. Another storm is headed into the area Friday night, with temperatures expected to plummet even more.
Katie SiemonMartin of Reno, who recently moved from Canada, was frustrated with local authorities' slow response to the storm.
"Sending the snow removal team out when there is already a foot of snow on the ground is a bit late. Ditto not salting the roads until about noonish, leaving everyone to skate to work sideways on a bed of black ice," she said.
Siemon Martin, who commutes daily to her job in Carson City, spent several hours trying to get home Tuesday afternoon. Her typical 20- to 30-minute drive was delayed due to the slick roads and auto accidents.
"Snow happens," she said. "If you can't drive in it you are a liability."
- Darcy Chappel
Wind chills down to 30 below zero in Fargo
FARGO, N.D. - On Wednesday, temperatures plunged to around 0 degrees, and the winds continued to blow, as they are wont to do in Fargo, resulting in wind chills of minus 30.
I attempted to travel from Fargo to Grand Forks, and it was a regrettable decision. Traffic on the interstate moved at 30 mph. What's worse, my car overheated, an irony not very funny at the time.
My trip to Grand Forks was ill-fated, and I turned back to Fargo after missing an exit due to poor visibility. My overheating car slowed the trip down significantly, but it took about 40 minutes to cover about 12 miles on Interstate 29. The roads were icy, visibility was horrendous, and more than one car was in the ditch.
There have only been four inches of snow. It's the sweet spot of inconvenience: just enough snow for everything to stay open and encourage people to drive. And it's just enough to make travel dangerous.
- Nicholas Kuvaas
Frozen shut in Rapid City
RAPID CITY, S.D. - This morning I laced up my snow boots, slipped on my warmest mittens, and snuggled into my heaviest winter coat to walk down the driveway for the mail.
Once I got to the mail box, I turned the key to open it, tugging hard with my icy cold fingers. It was frozen shut. It took several more tugs - and the strength of both hands - to pull it open.
My phone's weather app said it was 7 degrees, but that it felt like 27 below zero due to wind chill. No wonder the mail box had been iced shut. Brrr!
Although South Dakota isn't known for being a tropical paradise in winter (normal December temperatures average in the 30s and 40s), we normally don't see temperatures this low until January or February.
The frigid temperatures will continue through the remainder of the week. Thursday's high is 3, Friday's high is 4, Saturday's high is 2, and Sunday's high is 16. That means subzero daytime temperatures when you factor in the wind chill.
- Molly Golden
Livestock miserable, too, in frigid Montana
MISSOULA, Mont. - The weather forecasters claimed that this will be the coldest, extended temperatures to hit Missoula in 40 years. The National Weather Service says that in the next few days,
we'll see temperatures
as low as minus 5 to minus 30 with wind chills in the minus 20 to minus 30 ranges.
If the current temperatures are any indication, we'll be in for a wild ride.
It gets dark up here early with the sun setting before 5 p.m., so when I went to milk the goats this week, I was met by single-digit temperatures and absolutely frigid conditions. The milk quickly froze to my bucket and steam came off both the bucket and the goats as I milked them. Not surprisingly, they produced less. The chickens too were pretty miserable, deciding to huddle next to each other for warmth. I gave them extra grain and closed up the barn, keeping the critters inside sheltered from the dangerously cold temperatures.
There's hoarfrost on the horses' coats and manes, and enough snow to make it slippery. Rocket, my bay quarter horse, doesn't like the frozen footing and steps gingerly on the ground. We got maybe a half inch of snow after the cold front settled in.
- MH Bonham
Freezing in Vegas
HENDERSON, Nev. - On Wednesday night, the thermometer sank to 29 degrees, and the mercury doesn't seem likely to move higher soon. Normally, December's highs in Las Vegas hit 58 degrees.
A "
hard freeze warning
" has been forecast until Friday morning. Temperatures are expected to lower to the mid to upper 20s. My neighbors and I agree this reminds us of the winter of 2008, when it
snowed heavily in Las Vegas
- the one and only time since I moved here almost eight years ago.
This will be the first freeze for us, so we're preparing. My husband and I wrapped up our fruit trees, brought the dogs inside, and turned off the sprinklers. The heater is on full blast, which is surely going to make my gas bill skyrocket.
The plunging temperatures have had a negative impact citywide. The roads are slick from rain, so traffic is always horrible when I have to drive home. It seems like people are getting into accidents left and right.
- H. Brandon