About canyonjammer I was awakening to the problem in the 70's...forgot about it for a long time but my awareness was re-opened a couple of years ago by the financial problems in the US, (and world). Digging into these matters revealed the hidden agendas of the elites. Of course I wanted to know what was behind that, which eventually led me to the Cassiopeans and SOTT. Your information along with that of the Law of One (RA) has been a great help to me...If I can do anything to help please let me know
Paul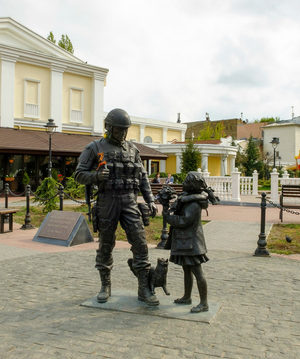 вежливым людям ('Monument to polite people'), Simferopol, Crimea
George Bush Sr. always said that his concept of government, what he believed in, and how he had operated, was on the Big Lie principle.
- US Navy Lieutenant Commander (Ret.) Al Martin
Recent Comments
What happened to the other 3 people? Weren't 2 mosques struck?
---
I blame El Cid and the Siege of Vienna. And Islamic Supremacists.
---
Yep! And the cow jumped over the moon!
---
It is more than just foolish arrogance. It's the deceit, hypocrisy, lies, murder, rape, slaughter, for starters.
---
Ironic that the "bombshell" about AOC being an actress hired to play a politician was delivered by "Mr Reagan" with images of Ronald Reagan, first...