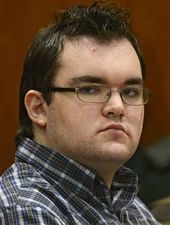 A psychologist described him as sadistic, and prosecutors said he methodically killed and dismembered the 10-year-old girl he grabbed on her way to school.
But lawyers for Austin Sigg said Tuesday the 18-year-old was still a child himself, he might have suffered trauma before and during birth, and he had anxiety, a learning disability and an emotionally distant mother.
Judge Stephen Munsinger rejected that image and the defense argument that Sigg should be eligible for parole in 40 years. He instead ordered the teen to serve a life sentence for killing Jessica Ridgeway plus 86 years for other offenses, including sexually assaulting her and trying to attack a jogger a few months before. The sentence ensured Sigg will never be released.
Jessica's disappearance last fall put the Denver suburbs on edge as police, aided by an army of volunteers, searched for her and then her killer. While people now know how Jessica was killed, Munsinger said they might never know why.
"Evil is apparently real," he said. "It was present in our community on Oct. 5, 2012. Its name was Austin Sigg."
Sigg - who was 17 when he killed the fifth-grader - gave no remarks during the two-day sentencing hearing and displayed no apparent emotion as he was sentenced. His mother, Mindy, who called police when he decided to turn himself in, watched from a few rows behind.
He did wipe away tears Monday as photos of Jessica were displayed. Mindy Sigg also wept as Jessica's grandmother, Angie Moss, testified about what it would be like to know your child was capable of such an act. Hearing the crying, Moss added, "I can't imagine the damage that's been done to his mother."
Jessica's mother offered no opinion on Sigg's sentence either during or after the hearing. She also declined to testify about how her daughter's murder has affected her and her family, saying "the defendant" didn't have the right to hear that.
The defense showed photos of Sigg growing up interspersed with teachers' comments, reports cards and medical and counseling records.
Lawyer Katherine Spengler said Sigg's mother inhaled paint fumes and fell down stairs while pregnant with him. She also said Sigg might have suffered brain damage from several falls as a child.
Spengler displayed a misspelled note to Santa Claus from a 7-year-old Sigg as evidence of his problems with writing. "Der Santa, Watever will do," it said.
Starting at age 12, Sigg began getting counseling for pornography, anxiety and a compulsive disorder, apparently with little support from his parents, who divorced when he was a toddler, Spengler said. She said Mindy Sigg seemed to retreat during his high school years.
Spengler also urged the judge to consider testimony from a University of Colorado cognitive neuroscientist, Marie Banich, who said the parts of the brain that govern complex decision making usually aren't fully developed until people are in their 20s.
"We aren't talking about someone who is developmentally an adult," Spengler said.
She said Sigg's background didn't excuse or explain his horrible crime, but she urged the judge to consider it in determining his sentence.
A Madison, Wis., psychologist hired by prosecutors earlier told Munsinger that Sigg was "sadistic" and had planned his attack.
Anna Salter, who studies sex offenders, testified Monday that Sigg did Internet searches for torture, rape and child pornography.
"He certainly had no empathy for Jessica Ridgeway," Salter said. She reviewed and cited gruesome details from police interviews with Sigg but didn't speak to him herself.
Prosecutor Hal Sargent said the defense presented no evidence that Sigg suffered a brain injury, but he said it wouldn't have mattered if they had. He said Sigg took pleasure in Jessica's pain, lied to her when she asked him if she would be able to see her mother again, and put her face-down into scalding water when he wasn't sure if he had successfully strangled her.
"Even if true, whatever forces have made Austin Sigg who he is, he is broken," Sargent said. "The only way to protect the community from him is to keep him confined forever."
Source: The Associated Press