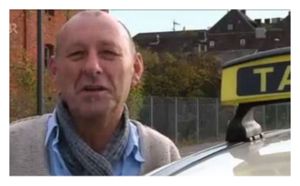 A Bavarian taxi driver found €250,000 on the back seat of his taxi on Monday. He then tracked down the elderly couple who had left it behind and would not accept a finder's reward from them.
Thomas Güntner is a taxi driver in Würzburg, Bavaria. As reported in
Die Welt
(German language), he had picked up an elderly couple at the bank and shortly after he drove them home, he noticed a cloth bag sitting on the back seat of his car.
On peeking inside the cloth bag, he was shocked to find €250,000 in €500 notes.
He told the media on Tuesday, "I was totally perplexed and surprised, that people could carry around so much cash and then forget it."
He added that keeping the money just wasn't an option, as he knew that "it would probably be the downfall of the old couple."
BR.de
reported (in German) that around 30 minutes after discovering the cash, he arrived at the couple's house, cash in hand. The woman met Güntner at the door, with tears in her eyes, so grateful to the man.
"I'm still shocked," she told reporters on Tuesday.
Güntner said
, "She was as white as a sheet and told me that I saved her life."
The couple offered a finder's fee for his honesty, but he would only accept the €12.30 fare that the journey to their house would have cost.
Earlier this week,
Digital journal
reported on another story, where an Italian pensioner lost €175,000 when the envelope containing the cash was blown from her balcony and an honest passerby returned the money.
While both stories illustrate the fact that "honesty is the best policy", it does make one wonder how people can be so careless, with so much cash?