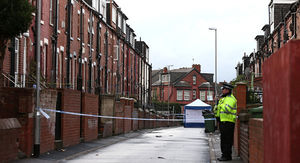 A 10-year-old boy is in police custody in the UK after being arrested in connection with the death of an elderly man who was found lying in the street with a head injury.
The 79-year-old man, named locally as Victor Hepworth, was discovered in Back Hill Top Avenue in the Harehills area of Leeds yesterday evening.
West Yorkshire Police were called to the scene just before 6.20pm, having been alerted by the ambulance service.
Paramedics took the pensioner, thought to have lived on the street, to Leeds General Infirmary but he was pronounced dead a short time later.
Neighbours in Harehills, to the north-east of Leeds city centre, have spoken of their shock at Mr Hepworth's death.
Liaqat Ali, manager of the Abubakar supermarket on nearby Roundhay Road, said he was a regular customer and that he had seen him yesterday.
He said: "The old gentleman used to come to the shop all the time, God rest his soul. I've been here for 10 years and he'd been living in the area at least that long. I think he had a son.
"I saw the old man walking around yesterday afternoon, but I didn't speak to him. He was quite well-known in the area.
"Everyone's surprised that this has happened. I'm shocked they've arrested a little kid.
"The police were around here until quite late last night, but we didn't see or hear anything. I only found out what had happened this morning."
Abdul Hannan, whose mother lives in the street, told Sky News the pensioner was always willing to help others.
Mr Hannan said: "He would go out of his way to help the community. He would put the bins out, he would pick litter up from the street, he would tell kids to put litter in the bins. He volunteered in the local church - he did that on a regular basis."
A forensic tent has been put up at the scene in Back Hill Top Avenue, a street of terraced houses, and the area has been cordoned off by police.
The boy arrested in connection with the incident is yet to be formally spoken to by officers, it is understood. Post-mortem examination results are expected later today.
West Yorkshire Police are appealing for information about the man's death.