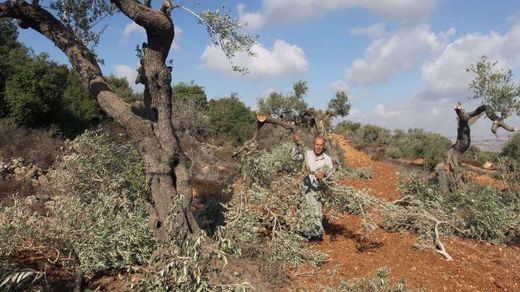 A Palestinian farmer says Israeli settlers have destroyed nearly 130 olive trees in the occupied West Bank.
Yasser Fukha said on Saturday that he saw a group of residents from a nearby Israeli settlement of Shavei Shomron driving near the farm in the village of Deir Sharaf and later found trees uprooted and damaged.
It came as the Palestinian farmers are set to start the 40-day harvest of olive, which is regarded as the backbone of the Palestinian economy.
Palestinians also consider the crop as a symbol of their connection to their occupied land.
Israeli settlers, mostly armed, regularly attack Palestinian villages and farms and set fire to their mosques, olive groves and other properties in the West Bank under the so-called "price tag" policy. However, the Tel Aviv regime rarely detains the assailants.
The extremists say the "price tag" attacks are carried out against any Israeli policy "to reduce the presence of settlers and settlements on the occupied Palestinian land in the West Bank and East al-Quds (Jerusalem)."
More than half a million Israelis live in over 120 illegal settlements built since Israel's occupation of the Palestinian territories of the West Bank and East al-Quds in 1967.
The United Nations and most countries regard the Israeli settlements as illegal because the territories were captured by Israel in a war in 1967 and are hence subject to the Geneva Conventions, which forbid construction on occupied lands.