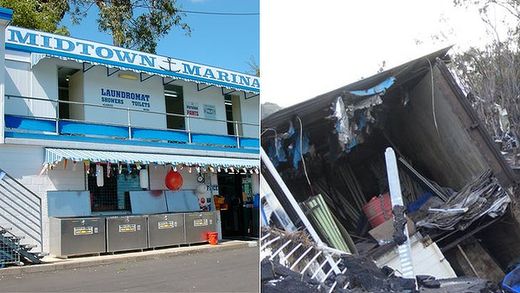 Authorities fear more buildings could topple into a sinkhole that has swallowed a two-storey building in the flood-ravaged Queensland city of Bundaberg.
Mayor Mal Forman says about 10 businesses, including a multi-level hotel, are at risk along the Burnett River.
Another deluge has further destabilised the banks of the river after the recent floods caused by ex-cyclone Oswald.
A sinkhole that opened up on Tuesday morning has already swallowed a two-storey building that was part of Jan Douglas's Midtown Marina business.
Authorities are yet to decide if they will evacuate other properties in the area, but say there's a potential for further collapses.
"The way it's happened is very frightening actually - to see it collapse so quickly in such a large area," Mr Forman told reporters on Tuesday.
"But I think if you look down there, there's more area that can fall away as well."
Ms Douglas said she came into work early on Tuesday to find the back half of her business being held up by a gate. Minutes later, it was gone.
"It's a two-storey building, so it shows you how big that sinkhole is," she told AAP.
Community Recovery and Resilience Minister David Crisafulli has urged residents not to let the severe weather distract them from the flood-recovery task.
"We have got to keep rebuilding this place. We cannot stop," he told reporters in Bundaberg.
Across Queensland, SES crews have received 136 calls for help in 24 hours - mostly in the state's southeast - for leaky roofs, tarping and flood assistance.
In the Mary Valley, north of Brisbane, a minor flood warning has been issued for the Mary River, with 150mm of rain falling since 9am (AEST) on Monday.
Minor flood levels are being recorded at Gympie with further rises of up to 10 metres possible on Tuesday, depending on the rainfall.
Severe weather, including gale-force winds of about 100km/h, is expected across the southeast corner on Tuesday.
The Seqwater Flood Operations Centre has been mobilised, with low-level releases being made from Brisbane's two main dams.
Somerset Dam will release 400 cubic metres per second for several days while 150 cubic metres per second will flow from Wivenhoe Dam until Monday.
The Bureau of Meteorology (BoM) in Sydney issued a flood watch on Tuesday for the area between Queensland and the NSW Hunter Valley on Thursday, Friday and Saturday.
The State Emergency Services (SES) said residents should be prepared for possible flooding in coastal river catchments.
"We are urging people who live or work near rivers and creeks to monitor the situation," an SES spokesperson said on Tuesday.
"People should prepare now in case they need to move to higher areas."