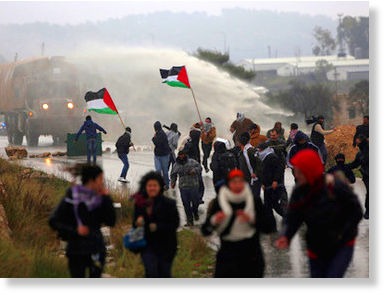 Israel is using lethal force on unarmed Palestinian protesters in the West Bank, according to the latest report by the Israeli human rights group B'Tselem. It says 56 people were killed in the clashes, with an average age of 18.
In the 31-page report, B'Tselem accused Israeli security forces of having "extensively and systematically violated" rules that ban deadly response to a non-lethal assault. B'Tselem has been working on the report, 'Crowd Control: Israel's use of Crowd Control Weapons in the West Bank' for the past year.
Only in the past fortnight, the Israeli military shot dead two Palestinians in the clashes.
Since 2005, six people were killed by rubber-coated metal bullets and two by teargas canisters, both supposedly non-lethal weapons which were fired directly at protesters, according to B'Tselem.
Live ammunition was utilized in other 48 cases of death. The average age of those killed was reportedly 18-and-a-half.
The typical riot dispersal tools of security forces include teargas, rubber-coated bullets, stun grenades, live ammunition, skunk and water cannons, pepper spray, and sponge rounds - non-lethal weapons which are not dangerous for long-term health if used correctly.
However, "in practice, members of the security forces make almost routine use of these weapons in unlawful, dangerous ways, and the relevant Israeli authorities do too little to prevent the recurrence of this conduct," says the document reported by Reuters.
Investigations, if launched, tend to be closed without any action taken to hold those who are guilty of deaths responsible.
"Senior officers on the ground back up their troops in such incidents, and the law enforcement authorities refrain from promoting accountability in cases where orders were allegedly breached," the document stated.
In particular, the report called the IDF to prohibit using live ammunition including 0.22 inch-caliber bullets and rubber-coated metal bullets for crowd control, except in instances of mortal danger.
Firing 40mm teargas canisters directly or horizontally at individuals should be prohibited, the report further argued, Jerusalem Post reported.
The Israeli Defense Force (IDF) countered that the human rights group's report "presents a biased narrative, relying primarily on incidents that are either old or still under investigation by the Military Police", Reuters reported.
"The IDF does everything in its power to ensure that the use of riot dispersal means is done in accordance with the rules of engagement," the report also said.
Peace talks between the sides have been frozen since 2010. Palestinians withdrew from the negotiations with Israel at the time, saying talks would only be possible after Tel Aviv halts all construction projects in the disputed areas.