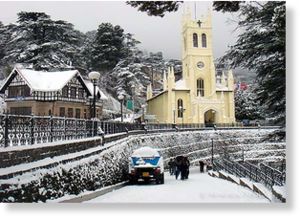 The Queen of the Hills, as Shimla was fondly called by the British, recorded the highest snowfall on a single day January in the past eight years, a Met official said here Saturday. Manmohan Singh, director of the meteorological office here, told IANS that the town recorded 38.6 cm snow in the past 24 hours, the highest in the first month of the year since 2005.
"The maximum snow in a day in January was recorded was in 2005. It was 33.2 cm Jan 18," he said, adding: "On two consecutive days (Jan 17 and 18 this year) the town got 63.6 cm." Singh said snow and heavy rain in the region in the past two days was mainly due to induced cyclonic circulation with the western disturbances.
As per records of the Met office, there was no snowfall at all in Shimla for two consecutive years in January from 2006. In 2008, there was just 1 cm snow throughout the month, while it was 8.7 cm in 2009, 1.8 cm in 2010 and 8.5 cm in 2011. In 2005, there was 94.3 cm snow in January but it was spread over seven days (Jan 17, 18, 21, 22, 27, 28 and 28).
In 2004, it was 96.6 cm snow Jan 23, 26, 30 and 31. On Jan 23, 2004, alone, Shimla saw 30 cm snow. However, in January last year the town saw 95 cm snow, the second highest after 2004 (96.6 cm). "But last year the highest snow on a single day was just 11 cm (Jan 16)," Singh added. Old-timers recalled that for almost two decades, Shimla has not recorded the kind of heavy snowfall that used to paralyze life in winter for more than a fortnight in the past. M.R. Kaundal, retired government employee who settled in Shimla in 1945, said till the 1980s, heavy snowfall was a normal feature of the town.
"As far as I remember the last time it occurred was during the winter of 1990-91 when the town was cut off from the rest of the country for more than two weeks due to snow. Tourists had to hire porters to leave the town, and trudge miles," he said. According to Compendium of Environmental Statistics, Himachal Pradesh - 2012, compiled by the state's department of economics and statistics, the state's minimum average temperature, which was registered at 5.6 degrees Celsius in 1971-72, is now 5.8 degrees. -
India TV News