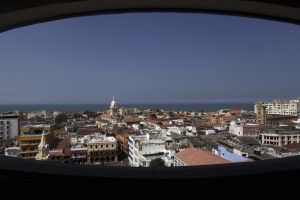 The U.S. military's Southern Command on Friday said it had handed down non-judicial punishments for three of the dozen noncommissioned officers involved in a prostitution scandal during President Obama's April trip to Cartagena, Colombia.
All three service members were reprimanded for relations with prostitutes, and one of the cases involved adultery, according to a command press release.
The command said it will dock two months base pay from two of the soldiers, both of whom also received letters of reprimand and 45 days of extra duties.
The third service member will lose half of two months base pay on top of receiving a letter of reprimand.
Southern Command last year punished nine other service members who admitted involvement in the scandal with forfeiture of pay, extra duty and letters of reprimand.
Two sailors suspected of roles in the scandal have claimed innocence and will go through courts-martial proceedings. Southern Command has not yet scheduled their proceedings.
If convicted, the two sailors could face any combination of up to two years in jail, fines, reduction in pay and dishonorable discharge.