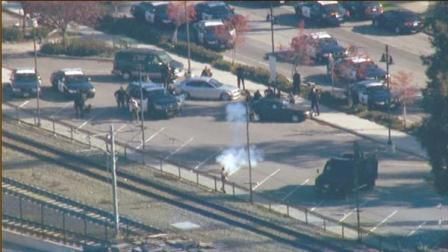 San Jose police have taken a naked sword-wielding man into custody after a brief foot pursuit.
Police received a 911 call at 8:05 a.m. that an adult male was in front of a residence near Ezie Street and Cas Drive with an assault rifle. As officers were en route to the location, the reporting party said the man was leaving in a vehicle. San Jose Police located the vehicle traveling near Southwest Expressway and Bascom Avenue and the man immediately came to a stop. The subject exited the vehicle naked and brandishing a large Samurai sword saying, "You're going to have to kill me" several times.
San Jose Police Department Crisis Intervention Team members were on the scene attempting to convince the subject to drop the sword and surrender to police peacefully.
The assault rifle and the subject's vehicle have been safely secured.