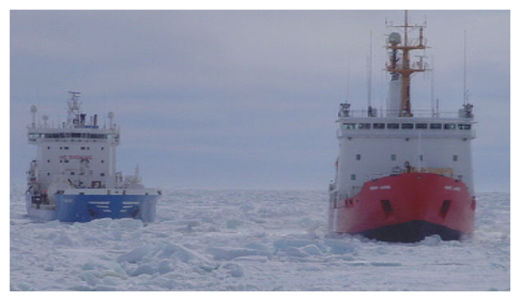 Brutal sea ice conditions that
northwest Alaska battled all winter
haven't receded in parts of northern Canada. Two resupply ships are stuck waiting at the mouth of Frobisher Bay in Iqaluit because of tough ice conditions. Frobisher Bay is an inlet of the Labrador Sea.
In June, winds and currents pushed heavy ice in to the area, CBC News reported on Wednesday.
Now, two Canadian Coast Guard icebreakers are trying to punch a path through for the resupply vessels. However,
the ice is so thick that it's closing in around the icebreakers before the other ships can follow.
"Thirty miles of heavy ice to get to Pike Risser channel. And from Iqaluit you can see out your window ... basically open water, but it's ice out of Pike Risser channel. Outside of that, that is where the heavy ice is," said Andy Maillet of the Coast Guard's Arctic Operations Centre.
Maillet doesn't expect the ice conditions to improve until mid-July. Rain and drizzle have made navigation even harder, cutting visibility.
One of the sealift ships that has stalled belongs to Nunavut Sea Link and Supply. Manasie Mark, who is with the company, said people have been calling to ask where their sealift is.
"I usually answer them by letting them know the ice conditions are bad at the moment and they are trying their best," he said.
"I know they are going to (arrive eventually)."
One of the sealift boats has been diverted to Kimmirut, a Nunavut town of 400 on Hudson Strait, a instead of waiting for the ice to go away.
The Coast Guard said they have not seen conditions like this since 2009.
Since Nunavut has no road links with the rest of Canada, all the communities depend on an annual resupply of goods and fuel from ships.