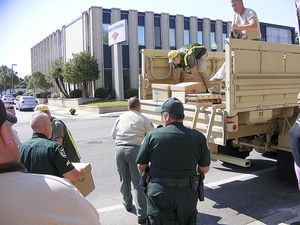 Live Oak, Florida - Flood water runoff from Tropical Storm Debby has created what appears to be a giant sinkhole that threatens to badly damage the county courthouse and adjacent businesses in this north Florida town.
Officials said Thursday the hole is not yet visible from above ground, but depressions in a street that runs by the courthouse, and cracks in the business buildings and a nearby parking area are evidence of its presence.
"There appears to be a sinkhole," said Bob Farley, the town's administrator.
The courthouse, which is without power, was ordered closed, and public records and other valuables were removed in boxes loaded onto National Guard trucks in the event of a sinkhole collapse.
The Big Wheel Market Place and the Robinson building next to the courthouse both had large wall cracks and were leaning toward each other into the depressed ground.
Geologists were called in to evaluate the site and recommend a course of action.
Randy Harris, Suwannee County coordinator, said the relentless rain (16 inches in 24 hours) that Debby dumped on Live Oak moved over and underground rapidly Wednesday to cause the sinkhole.
"The water had to go somewhere," said Harris.