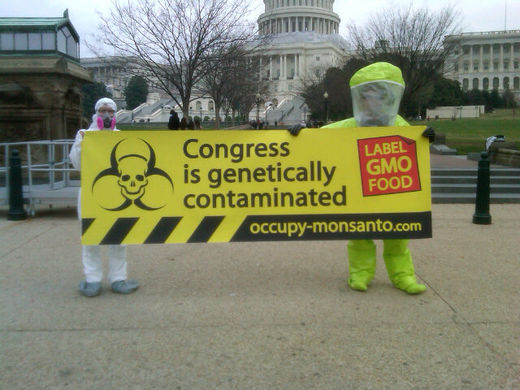 To borrow a phrase from Bill Maher, here's a New Rule: anytime a GMO advocate gushes about the benefits and safety of genetically engineered products, someone must recite the following
statistics
from Food & Water Watch:
Since 1999, the 50 largest agricultural and food patent-holding companies and two of the largest biotechnology and agrochemical trade associations have spent more than $572 million in campaign contributions and lobbying expenditures.
Lobbying expenditures for food and agricultural biotechnology more than doubled between 1999 and 2009, rising 102.8 percent from $35 million in 1999 to $71 million in 2009.
Food and agricultural biotechnology PACs made more than $22 million in campaign contributions since 1999.
Food and agriculture biotechnology firms employ more than 300 former congressional and White House staff members as lobbyists.
In addition to in-house lobbyists, the food and agricultural biotechnology firms employed more than 100 lobbying firms in 2010.
Would you like to know about Monsanto's lobbying efforts? Thanks to data gathered by the
Center for Responsive Politics
, one could argue that Monsanto is dedicated to genetically engineering Washington DC to express laws and regulations that favor its interests:
In the first three months of 2012, Monsanto spent $1.4 million lobbying Washington.
Monsanto spent about $6.3 million total in lobbying last year, more than any other agribusiness company except the tobacco company Altria.
Monsanto aggressively uses lobbyists to promote its corporate interests. The company lobbied bills ranging from the American Research and Competitiveness Act of 2011, which would extend tax credits for companies doing research, to several bills that would change the way the Department of Homeland Security handles security at chemical facilities.
Regulatory agencies can count on Monsanto to be a frequent guest: the company's lobbying reports list the departments and agencies it visited as the agencies were writing rules to implement and enforce Congress' legislation. Such agencies include the United States Department of Agriculture, Environmental Protection Agency, the Food and Drug Administration, and many other executive branch offices. Incidentally, since the commercialization of GMOs in mid-90s, the "U.S. Department of Agriculture has approved more than 80 genetically engineered crops while denying none."
When the 2012 farm bill was going through Congress, Monsanto filed more lobbying reports on it than any other organization.
Monsanto's PAC - Monsanto Citizenship Fund - has already spent more than $385,000 in this election cycle. The biggest recipient is the Chairman of the House Agricultural Committee, Frank D. Lucas (R-Okla.), who received $20,000 from Monsanto's PAC - $10,000 for his campaign committee and $10,000 for his leadership PAC.
Monsanto's PAC also gave $13,500 to Rep. Collin Peterson (D-Minn.), the top-ranking Democrat on the House Agricultural Committee, including $3,500 directly to his campaign and additional $10,000 for Valley PAC associated with his campaign.
So far this election cycle, Monsanto's PAC has given $77,500 to 17 members of the House agriculture committee, or their leadership PACs.
Beyond federal elections, Monsanto runs a Good Governance Fund to manage direct corporate contributions to state and local candidates. Based on company disclosures, this fund handed out nearly
$1.4 million
to state and local candidates across the country between 2007 and 2011.