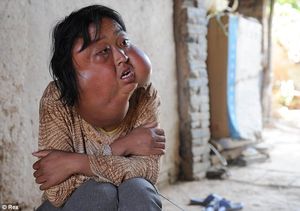 A Chinese mother-of-two has been left disfigured by tumours which have been growing on her face for the last ten years.
Li Hongfang, 40, is shunned in public because of the rare condition which has caused her face to slowly swell.
She has been unable to get medical treatment for Chordoma because she cannot afford it. The illness is a form of bone cancer which causes tissue to grow.
The trouble started in 2001 when she noticed a small patch of swelling on her forehead which she initially ignored because it was not painful.
When her condition was finally diagnosed four years later, doctors said she had seven tumours growing on her face.
But she has been unable to pay the £60,000 or 600,000 yuan medical bill and has been forced to watch them slowly grow.
The mother said: 'I know that a lot of people see me as a monster but I am just a normal woman and a mother inside.'
When she was diagnosed, she was living with her husband and two sons in Tianchao village, in Qianxian county, in west China's Shaanxi province.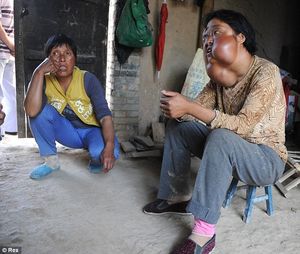 She said: 'We didn't have much money but we were very happy and we loved each other and our two boys. I would say life was good then.
'I didn't think anything of it when I got a small swelling on my forehead - I thought it was probably just an insect bite.
'It didn't even itch or ache in anyway - but it also didn't go away and in fact just got bigger and bigger.'
In China, healthcare has disintegrated in recent decades when the old state system was dismantled and medical fees introduced.
Many cannot get access to it or simply cannot afford it and many of the 700 million people in the countryside have to travel to cities to get decent care.
Officials are debating a programme which aims to provide health insurance for all its 1.3billion people by 2020 but at the moment the Chinese health system falls far behind the needs of those it is supposed to be treating.
She was told she would have to pay to cover the cost of the operation - which is far beyond her limited means.
By 2009 she met Guo Yingping, 40, who as an orphan knew something about loneliness and the two became friends and later married.
Her two sons, now aged 17 and 14, have left home to work.