More than a month's rain fell in just 12 hours and flood alerts remain in place with forecasters warning more wet weather is on the way.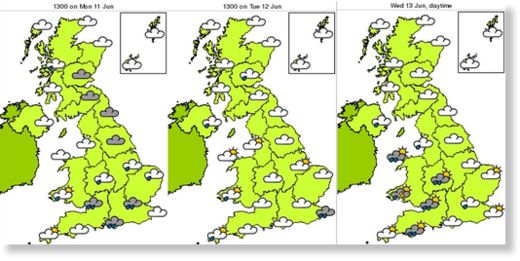 The heavy rain continues to hit parts of England and Wales with 44 flood alerts in place and flood warnings issued for two West Sussex locations and another in Surrey
Yesterday the Met Office warned homeowners to brace themselves ahead of the the deluge, which began in earnest about 6pm last night and brought nearly three inches of rain by tea-time.
Earlier today it raised its warning level for London and the South East of England, including Bournemouth, to amber, the second highest level and in Shoreham 2.6ins fell in just 12 hours.
The atrocious conditions hit London, Hampshire, Kent, Surrey, West Sussex, Buckinghamshire, West Berkshire and the Isle of Wight. Forecasters have also said that the weather is unlikely to get much better over the next couple of weeks with more rain expected over the weekend. (Additional pictures
here
.)
West Sussex was one of the worst hit areas in the UK while in East Leeds, heavy rain caused drains to back up and roads and homes to flood as water rose to up to four feet deep in some places.
The amber alert means the public should be prepared for surface water flooding and localised river flooding, as well as very difficult driving conditions.
The Environment Agency issued it's second highest flood warning for the South East urging homeowners calling for them to take immediate action to protect their properties.
There were also 36 other flood out alerts in place across the country, including 26 in the South East, three in Wales and five in the North East and North West.
The bad weather was caused by a shallow depression moving slowly over Britain, and brought 20mm to 40mm of rain in most places and up to 65mm in some places within the amber warning area.
The South East normally sees somewhere between 53mm and 58mm of rain in June.
A Met Office spokesman said: 'Parts of central southern England will see the heaviest rain, in Hampshire, Surrey and parts of Sussex. It's slowly moving west and by this evening it won't be as heavy as it has been through this morning.'
The unsettled weather will continue throughout the course of this week, and although much of the UK will be dry on Wednesday, heavy rain is expected on Thursday and Friday.
The weather has caused havoc throughout much of Britain over the past 24 hours.
In Worcestershire, a man is recovering after being rescued from his boat which got trapped in the middle of the swirling and flooded River Severn, one of the country's most powerful rivers.
His 40ft long boat got pinned broadside against a pontoon at the Diglis Basin, where the river passes through Worcester, last night.
The man was trapped on board with flood water rushing past him, the boat unable to be moved because of the pressure of the current against its hull, holding it fast against the pontoon in mid-river.
Fire crews managed to rescue the man, who was unhurt, at considerable risk to themselves, but couldn't save the boat which smashed free of the pontoon and was swept downstream.
It was located, badly damaged, almost 10 miles downriver south of Upton-on-Severn, near the M50 bridge today.
Children were evacuated from a school in Cosham, Hampshire, today after a torrent of water rushed over a wall and into the building.
Firefighters were called to Portsdown Primary School at 10.40am and had to use plastic sandbags to protect classrooms from further flooding.
Sporting events have been disrupted, including the tennis at The Queen's Club, London, which has been delayed, and the third test match between England and the West Indies at Edgbaston, Birmingham has been abandoned.
In West Sussex firefighters were urging people to only call 999 in a 'real emergency' following 'very high levels' of calls.
Last night, the county's firefighters received 200 flood-related calls in just over four hours.
One of the worst incidents was when 26 basement properties in South Terrace, on Littlehampton seafront flooded, some up to a depth of four feet, causing £1million of damage.
A temporary rest centre has been set up in the Sportsdome at Littlehampton Swimming Centre for 25 people evacuated and there are no reports of any injuries.
A fire service spokesman said: 'There were no reports of any injuries, but people are being urged to stay out of floodwater due to the dangers of lifted manhole covers and water contaminated with sewage.'
Locals said the water was coming into their homes 'from all sides' as drains inside and outside started to overflow.
Alan Thomas, 66, who owns two bed and breakfast houses and two apartments on the seafront said: 'Contaminated water started coming through the toilet and up through the plug in the shower at about midnight.
'Since then it's been non-stop really in my ground floor apartment we have about eighteen inches of water and it's still there.
'We had guests staying and they rang me frantic with worry.
'Their holiday has been ruined and I will have to get the whole place gutted now. It was booked up right until October but my summer season will have to be cancelled.'
Southern Water has confirmed they will launch an investigation after their sewerage system became 'overwhelmed' by the torrential rain.
Meanwhile, firefighters spent four hours sweeping flood water out of Worthing Hospital after the basement and morgue flooded, but no patients had to be evacuated.
Children were also sent home early from school after the coastal village of Bosham in Chichester was hit by flooding. The main street has more than six inches of water and flooding is expected to get worse at high tide later on. Many roads are now impassable and the A27 has been closed between Chichester and Portsmouth.
Near Basingstoke, the A33 has been closed because of flood water and police say the road between the roundabout at Chineham Business Park and the Tesco roundabout could be shut 'for up to 24 hours'.
Onlookers reported that one car has been abandoned under the bridge and it is partly-submerged in he swirling flood water. Another car was reportedly towed out by a recovery vehicle 'with a family inside it'.
Meanwhile, a man had to be rescued by firefighters after his car became stuck in a deep water in a ford in Waterlooville, Hampshire, and started taking in water running off from nearby fields. Crews from Hampshire Fire and Rescue Service were scrambled at 11.48am and managed to extract the man after the water had reached seat-level.
In the same county, children were evacuated from Portsdown Primary School in Cosham after a torrent of water rushed in 'like a waterfall', flooding five classrooms, the school hall, kitchen, headteacher's office and hallway.
Headteacher Irene Baldry said: 'We evacuated the children and called the fire brigade who laid down bolsters to keep the water at bay.
'It's now just sitting on the one level and and we have people with heavy duty vacuums trying to get rid of it.'
In Emsworth, elderly people were stranded in their homes when rising floodwater prevented them from getting out.
In Derby, a heavily pregnant woman was rescued by firefighters after slipping down an embankment near the Pride Park stadium and falling into the River Derwent.
The incident happened at 6.30pm last night after a member of the public spotted the woman in trouble.
Station manager Trevor Sherwin, from Derbyshire Fire and Rescue Service, told the BBC: 'She was extremely fortunate because the part of the river where she had fallen into was not particularly fast flowing because it was protected by some trees.'
In the capital, the London Fire Brigade have been called to 28 flooding incidents, including at Enfield, Barnet and Camden, Battersea, Wandsworth, Newham and Hounslow. Underground services have not been affected, but flooding closed Moorgate station this morning.
In parts of East Leeds, firefighters received 38 flood-related calls from Garforth, Swillington, Rothwell, Stanks and Gipton last night after heavy rain caused drains to back up and water to flood homes and businesses.
Some of the flood water was 4ft deep in places and some roads in the area are closed. It followed the downpours which caused parts of the M1 near Leeds to close yesterday.
Meanwhile, over the weekend, hundreds of residents were evacuated after a landslide damaged a dam at a reservoir - threatening to wash away their village.
Just 36 hours after flash flooding hit Pennal in North Wales there was a second shock as water began escaping through a crack in the dam.
If the barrier had been completely breached, six million gallons would have flowed into the River Sychan and cascaded into the valley, swamping the village half a mile below.
Around 600 residents were moved to a leisure centre in nearby Machynlleth as police, firemen and engineers rushed to repair the stone wall and avert 'a very serious situation'.
The threat came as residents, holidaymakers and businesses 20 miles further south began the clear-up following 'unprecedented' flash flooding on Saturday. More than 1,000 people were moved to safety as rivers burst their banks and 150 holidaymakers had to be rescued from holiday caravans in the resort of Aberystwyth and surrounding villages.
The affected stretch of coastline in West Wales saw twice as much rain in 24 hours as it usually sees in the whole of June.
It raises the prospect of a repeat of the scenes in the early hours of Saturday at the Riverside caravan site in the village of Talybont - one of four holiday parks along the bank of the River Leri to be evacuated.
Some holidaymakers were pulled to safety on ropes, while a lifeboat crew got into difficulties and had to be rescued by an RAF helicopter. Pennal, which lies on the southern fringe of the Snowdonia national park, was among the dozens of villages hit over the weekend by flooding estimated to have caused tens of millions of pounds of damage.
Homes on the northern edge of the village closest to the river were flooded on Saturday.
Then came the crack in the dam. Neil Lewis, 60, who lives in the centre of the village, said a section of mountainside had slid into the reservoir, and was thought to be blocking a drainage hole which allowed water to escape naturally.
Following two controlled releases of water, North Wales Fire and Rescue Service said last night they had 'created a permanent channel in the reservoir which is allowing the water to dissipate naturally and at a steady rate' and residents were able to start returning to their homes.
Spokesman Gwyn Jones added: 'The pressure son the reservoir was immense, so public safety was paramount.'
Elsewhere, the 179-year-old Durham Regatta was called off for the first time in its history because of safety concerns posed by the torrential rain.