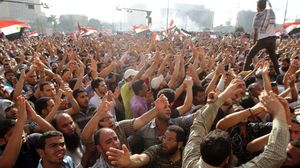 Angry Egyptian demonstrators have gathered in Tahrir Square in the capital, Cairo, for the second day to protest at former dictator Hosni Mubarak's 'lenient' life term.
Chanting slogans during the Sunday morning protests, the demonstrators demanded the execution of the former ruler for his complicity in the killings of at least 900 anti-regime protesters during the country's historic revolution in February 2011.
In a final verdict by a Cairo court on Saturday, a life term was handed down to Mubarak and his Interior Minister Habib al-Adli.
However, six top police commanders were acquitted of the same charge due to what the judge described as 'lack of concrete evidence.'
Following the announcement of Mubarak's verdict, tens of thousands of people took to the streets across the country to demand a tougher sentence.
A group of protesters also stormed Mubarak's last Prime Minister Ahmed Shafiq's offices and set fire to a building in the town of Fayyoum on Sunday morning after Shafiq said that Mubarak's verdict must be accepted.
This is while Amnesty International says the Cairo court's life in prison ruling for Mubarak fails to deliver full justice.
The Muslim Brotherhood's presidential candidate Mohamed Morsi also joined the protests in Tahrir Square late on Saturday to denounce the court ruling.
Morsi will face Shafiq in a run-off election on June 16 and 17.