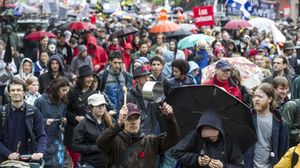 Thousands of people have taken to the streets of Montreal in Canada to protest against a planned tuition fee hike after talks between student groups and Quebec government officials collapsed.
The mass rally, organized by the CLASSE student association, was held on Saturday as thousands of student protesters and their supporters convened at the base of Mount Royal near McGill University in Montreal.
The protest was the first since the latest tuition negotiations with Quebec Premier Jean Charest's government broke down Thursday.
CLASSE said some 10,000 people were marching by Saturday late afternoon in the biggest protest since the start of the tuition crisis in February.
"It's to continue to rally and show that we are still motivated even if summer is on its way," CLASSE leader Gabriel Nadeau-Dubois told reporters before the start of the protest.
"This isn't a student strike, it's a society waking up,"
read a banner at the front of the march.
A strong police presence, including dozens of vehicles, served to prevent any flare-up in the protest, after previous clashes in recent weeks. About 700 people were arrested in Montreal and Quebec City in a single night late last month after an emergency law was passed to limit the protests.
Four days of talks over the proposed tuition fee rises reached an impasse on Thursday after Premier Charest's government walked away from the negotiating table and refused to change its plan to increase the university fees.
The talks were considered as the provincial government's last chance for an immediate resolution to end the mass demonstrations that have swept across the country for about four months.
Student unions have asked for a tuition freeze but the government has ruled it out and passed an anti-protest law to limit the student demonstrations across the province.