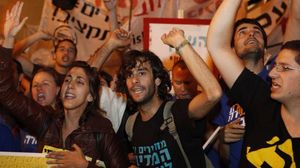 Thousands of Israelis have participated in demonstrations in several cities in protest against social injustice and the high costs of living.
About 5,000 people gathered in Tel Aviv on Saturday night to express their anger against the policies of the Israeli regime that prompt social inequalities.
Hundreds of people also protested in al-Quds (Jerusalem) and Haifa, renewing their calls for social justice.
The protesters demanded the improvement of social services and infrastructure, a decrease in the costs of living and an increase in the taxation on those with high incomes.
The organizers said in a statement that "our renewed call stems from grief and anger -- we've been fighting for a whole year, with the complete support of most of the Israelis."
However, Tel Aviv "is intensifying the destructive social processes it is advancing. Israelis demand recognition of their distress and a significant policy change, but the government continues to ignore them," the statement said.
Last month, people held similar rallies across Israel to protest against social inequalities.
A protest movement swept Israel when hundreds of thousands of people marched and set up protest camps in city centers last summer.
Activists say that the situation has not changed as a result of the rallies.