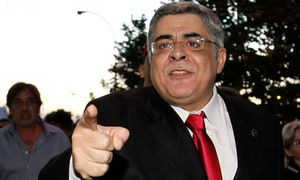 Two newly elected MPs from the neo-Nazi Golden Dawn party were among six people arrested over an attack on a Pakistani man in Athens, in the latest in a series of incidents that have raised fears that Greece's immigrants are being targeted in the runup to this month's crucial elections.
Ilias Panagiotaros and Ioannis Vouldis were briefly held alongside the daughter of Nikos Michaloliakos, Golden Dawn's leader, but were later released.
According to police, the attack took place late on Friday when a group involved in a protest turned on a 31-year-old Pakistani bypasser.
Golden Dawn confirmed two of its MPs had been held, but denied they took part in the attack. "[They] could not have been involved because they were miles away," it said in a statement.
Golden Dawn caused consternation across Europe after winning 7% of the vote in Greece's elections in May, giving them 21 seats. It is the first time the far right has sat in parliament since the fall of the military junta in 1974. With their neo-Nazi insignia, violent rhetoric and calls to expel Greece's immigrants, Golden Dawn's leaders are hoping to exploit political instability in Greece to gain further ground in elections called for 17 June after no party was able to form a government following last month's vote.
In the run-up to the first election, Golden Dawn ran TV ads with the campaign slogan, "Let's rid this country of the stench." On election night Michaloliakos dedicated their success to "all the brave youngsters who wear black T-shirts with Golden Dawn written in white".
Unemployment in Greece now stands at at 22%, and 52% among young people, and the party has sought to capitalise on a mood of fear across a country that is struggling to come to terms with rising crime, falling living standards and a feeling that it is on the brink of economic and political meltdow.
Greece's 1 million immigrants have become an easy target for neo-Nazi and other far-right groups, who regularly parade through Athens chanting racist slogans.
On Saturday the youth wing of the leftwing Syriza party condemned the attack, saying: "An orgy of violence and murderous attacks is taking place in the streets of Athens ... Those who think they will address the immigration issue with knives, swords and minefields along the borders have no place in our neighbourhoods, even less so in parliament."
The elections, seen as a referendum on Greece's membership of the euro, will be a tightly fought contest between the conservative New Democracy party and Syriza.