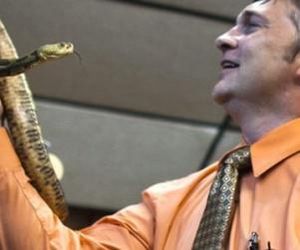 West Virginia Pentecostal Pastor Mark Randall "Mack" Wolford, who handled snakes, was fatally bitten by a rattlesnake, which he owned for years, at the Panther Wildlife Management Area, 80 miles west of Bluefield, West Virginia during a Sunday snake-handling service,
reports
the
Washington Post
.
Pastor Wolford had posted several statements on his Facebook page on May 22:
"I am looking for a great time this Sunday. It is going to be a homecoming like the old days.
Good 'ole raised in the holler or mountain ridge running, Holy Ghost-filled speaking-in-tongues sign believers."
"Praise the Lord and pass the rattlesnakes, brother" he wrote on May 23.
About 30 minutes into the service, Wolford was bitten on the thigh by his yellow timber rattlesnake.
Pastor Wolford was taken to a relative's
house
to recover, as he always had when suffering from snake bites, but this time he passed away.
Pastor Wolford claimed that the bible required that Christians handle snakes to test their faith per the verses in Mark 16:17-18: "And these signs will follow those who believe: in My name they will cast out demons; they will speak with new tongues; they will take up serpents; and if they drink anything deadly, it will by no means hurt them; they will lay their hands on the sick, and they will recover."
Iro

nically, Pastor Wolford's father also died of a snake bite in 1983.

Here is a video of Pastor Wolford and his congregation in action.