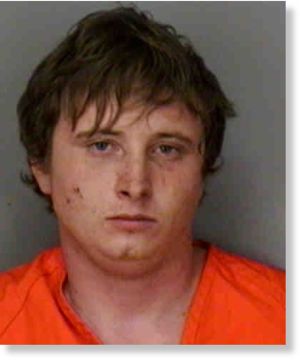 US, Florida - A 23-year-old Lake Wales man is being held without bond at the Polk County Jail facing first-degree murder charges in the death of his grandmother.
Christopher Chase Whaley allegedly stabbed Barbara Denmark repeatedly while she bathed.
According to a Polk County Sheriff's Office report the suspect had gotten into an argument with Denmark, 69, and his aunt, Cassandra Pippin, on Saturday. The suspect was in Daytona Beach at the time and allegedly decided to kill the pair when he returned home.
Detectives say Whaley had been living with Denmark in her Lake Wales mobile home for at least the past five years.
When the suspect arrived home he went into his bedroom and thought about committing the murders. Whaley then went to the kitchen, grabbed two knives and attacked his grandmother in the tub.
The report states he left the bathroom and when he came back she was out of the tub and on the floor. Whaley checked but found her unresponsive and called 9-1-1. The suspect apparently decided not to kill Pippin, who also lives in Polk County.
When deputies arrived Whaley met them and turned himself in. He was arrested on one count of first degree murder and transported to the Polk County Jail.