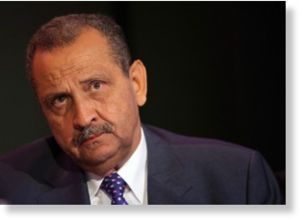 The body of former Libyan Oil Minister Shukri Ghanem was found in Danube river near the Austrian capital Vienna on Sunday.
Media reports quoting police spokesman Roman Hahslinger said Ghanem's body was found floating in the river on Sunday morning and it bore no external signs of violence. The cause of death could be determined only after a post-mortem examination, he added.
Ghanem, 69, was last seen by his daughter on Saturday night in their apartment in a Vienna suburb. She went to bed and when she woke up he was not in the apartment. She alerted the police who told her the body of her father was found in the Danube, 20 meters from the shore, close to the apartment in Copa Cagrana, a popular waterfront dotted with bars and restaurants.
Ghanem was working as a consultant for a Vienna-based company. He defected from Libya as the oil-rich North African country plunged in turmoil following an uprising against the dictatorial regime of Col. Moammar Qadhafi last year. He had criticized the bloodshed in Libya, saying that the situation had become "unbearable," making his position untenable. Ghanem had also served as Prime Minister during 2003-2006 before becoming Oil Minister, a high-profile job.
At the height of the crisis in Libya, he crossed over to neighboring Tunisia in mid-May 2011 by car and became one of the highest-ranking officials to defect from the Qadhafi regime. His defection came just weeks before he was due to represent Libya at an OPEC meeting in Vienna.
He announced his defection in June, saying he left his home country "to join the choice made by young Libyans to fight for a democratic country." However, he did not join the National Transitional Council, which is Libya's current interim government.