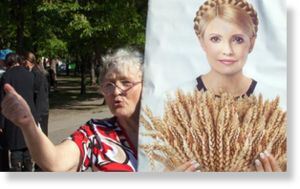 Daughter of Ukraine's imprisoned opposition leader calls on Germany to 'save the life' of her mother
Angela Merkel is planning to boycott next month's Euro 2012 football tournament in Ukraine unless imprisoned opposition leader Yulia Tymoshenko is released, according to newspaper reports.
The German chancellor's decision came as the former Ukrainian prime minister's daughter made an impassioned plea to the German government to "save the life" of her mother, who is has spent 10 days on hunger strike.
"Save my mother's life before it's too late," Eugenia Tymoshenko urged the German leadership in an interview with the
Frankfurter Allgemeinen Sonntagszeitung
newspaper. "The fate of my mother and that of my country are now one and the same thing: if she dies, democracy dies with her".
Tymoshenko, 52, a former leader of Ukraine's Orange Revolution who is serving a seven-year prison sentence on charges that she abused her powers in a Russian energy deal, went on hunger strike to protest against alleged abuse in custody.
She claimed last week that prison guards punched her in the stomach and twisted her limbs while taking her to hospital against her will to be treated for a chronic back problem. Bruises on her right arm, elbow, hand and stomach have been documented in photographs.
According to a report in
Der Spiegel
magazine, Merkel is considering staying away from Euro 2012 games staged in Ukraine and is urging her ministers to do the same.
Interior minister Hans-Peter Friedrich, who is also Germany's sports minister, has already announced his intention to boycott the Germany v Netherlands match in Kharkiv, the city where Tymoshenko is being held, if he is forbidden from visiting her beforehand.
The government's press office refused to comment on
Spiegel's
report, but government spokesman Steffen Seibert said last week it remained open whether Merkel, an avid football fan, would attend, adding that the government was paying close attention to developments in the Tymoshenko case. Government observers said it was likely Merkel would attend games in Poland, the co-host country, instead.
Foreign minister Guido Westerwelle said he was "very worried" and "shocked" about Tymoshenko who "against all legal and moral obligations" had been "denied appropriate medical treatment".
German doctors have visited Tymoshenko twice and insist she needs medical help. With the backing of the foreign ministry, they have offered to treat her in Germany.
Uli Hoeness, the manager of Bayern Munich FC, became the latest figure from the football world to wade into the debate, calling on Michel Platini, the president of the Union of European Football Associations (Uefa), to speak out against the Ukraine's authoritarian regime.
"I very much hope that Michel Platini will express his opinion at the right time and place about this," he told
Der Spiegel
. He urged Germany's players to display their support for the regime's opposition. "I have faith in the players that they are intelligent enough to have an opinion about this and I would have respect for every player who took a public stance on this," he said.
Hans-Joachim Watzke, the manager of Germany's Bundesliga champions, Borussia Dortmund, has said he plans to boycott the event.
Germany's president Joachim Gauck announced last week he would not attend next month's meeting of European presidents to be hosted by Ukraine's Viktor Yanukovych in protest at Tymoshenko's situation. The presidents of Slovenia and Austria have followed suit.
Eugenia, 32, said her mother was against a boycott of Euro 2012, saying she saw the championships as a symbol of the European integration of her country, offering the opposition a strong platform for their protests against the government.
But she urged politicians to stay away from the event: "My mother doesn't want German and European politicians to share a podium with President Yanukovych, either inside or outside the stadium."