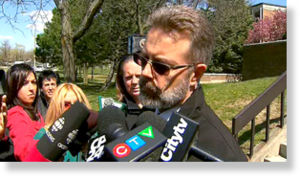 Canada, Toronto - A Toronto principal says security is adequate at his school despite his "shock" at finding a gun in a student's backpack.
Craig Crone says he and another teacher found the weapon while checking the bag after a fight at Oakdale Park Middle School and called 911 immediately.
Toronto police have confirmed a 12-year-old boy, who cannot be identified because of his age, is facing several charges in Friday's incident.
Const. Wendy Drummond says the weapon was a loaded Colt 38 Detective Special and police are looking into whether the boy may have found it and put it in his backpack.
The principal says while security can always be improved he believes it is "adequate" and the school, located in the city's northwest end, is safe.
The boy is charged with possession of a prohibited firearm, possession of ammunition, careless storage of a firearm and assault.
"It's not likely" the boy will be returning to school, said Crone, adding he must first be dealt with by the criminal justice system. Possession of a weapon brings an automatic 20-day suspension and possible expulsion under school board protocol, he said.
The school had a safety audit after a shooting incident in the area in November, Crone said. As a result, video cameras are being installed and lighting upgraded around the building. A more secure back door is also needed, the principal said.
"Those things are going to make a difference, I believe, and it's going to reassure staff and the community and the parents, obviously."
"I work here every day and this is a safe place to come to school," said Crone. "Security is adequate. Can we improve? Yes."
Parents of children at the school, which has 560 students in Grades 6, 7 and 8, were told of the incident in a letter sent home earlier this week. The letter referred to an "urgent matter" but did not give specifics, said Crone, adding a meeting that was to be held Wednesday night would help address concerns.
Source: The Canadian Press