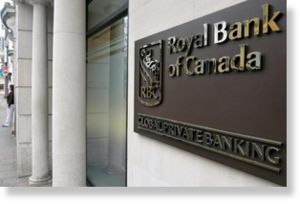 US regulators have announced charges against Royal Bank of Canada, accusing the major Canadian bank of "washing" hundreds of millions of dollars through fraudulent trading.
The US Commodity Futures Trading Commission (CFTC) on Monday said it had filed a complaint in federal district court in New York accusing RBC of "conducting a multi-hundred million-dollar wash sale scheme in connection with exchange-traded stock futures contracts."
The Canadian bank and financial services company does business in New York.
"The trading scheme was allegedly designed as part of RBC's strategy to realize lucrative Canadian tax benefits from holding certain public companies' securities in its Canadian and offshore trading accounts," the CFTC said.
CFTC also charged that the bank concealed material information from, and made material false statements to, a futures exchange.
"From at least June 2007 to May 2010, RBC allegedly non-competitively traded hundreds of millions of dollars' worth of narrow based stock index futures (NBI) and single stock futures (SSF) contracts with two of its subsidiaries that RBC reported as 'block' trades on OneChicago," it said.
"The CFTC's complaint alleges that RBC's NBI and SSF trading activity, which accounted for the majority of OneChicago's volume during the relevant period, constituted unlawful non-competitive trades, wash sales and fictitious sales."
In a statement, RBC said it would "vigorously defend" its reputation and called the allegations "absurd," as it had sought guidance from regulators before making any of the transactions now called into question.
"The CFTC has been aware of these transactions since 2005. These transactions were done in accordance with market terms, regulations and process," the bank said.
"These trades were fully documented, transparent, and reviewed by both the CFTC and the exchanges, and for the next several years were monitored by them," it added.
RBC noted that the block trades in question were "executed at competitive market pricing and no market participants suffered any negative impact."
"Given no objection to the trading activity by either the exchange or the CFTC in 2005, it is absurd to now claim these trades were either fictitious or wash sales. This lawsuit is meritless."