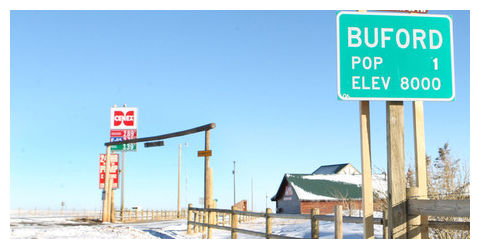 An outpost billed as America's smallest town is up for sale this week, complete with its own schoolhouse and gas station, with bidding starting at an enticing $100,000 ($121,000 NZ).
For a sum which would barely buy a one-room apartment in most places - and a lot less in big cities - the purchaser of Buford, Wyoming would get over 10 acres of land including a three-bedroom home, a garage, and a cellphone tower.
The
Buford Trading Post
- store - benefits from regular traffic along the I-80 interstate, with Wyoming capital Cheyenne just 50 kilometres to the east, and San Francisco 1,800 kilometres) to the west.
It once had 2,000 inhabitants, but then the railroad dropped it as a stopping point, and locals gradually moved out, until now it boasts the rare road sign: "Buford. Pop. 1. Elev 8,000."
Current owner Don Sammons moved to Buford from California in 1980 with his family. But his wife died several years ago and his son grew up and moved away, leaving him on his own.
"I am getting to the point where I'm thinking about retirement," said Sammons, who describes himself as the mayor, adding that he had had "wonderful years" in the town.
"I don't know what's going to happen to Buford," he added.
The online auction blurb boasts that the property "includes the 24-hour fuel post, United States Post Office Boxes and a school house built in 1905 which is currently used as an office building.
"Additionally, there is a 3 bedroom modular home purchased new in 1994, a three and a half stall garage built in 1895, a 1900s cabin which is now used as a tool shed and a 700-800+/- sf barn.
"The parcel also includes the Union Wireless cellular tower lease and the parking lot previously used by an overnight shipping company for nighttime trailer switches."