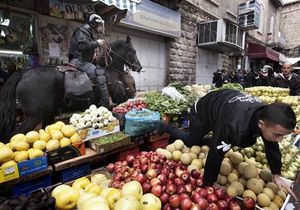 Israeli security forces fired rubber bullets, tear gas and stun grenades to break up groups of Palestinian stone-throwers on Friday as annual Land Day rallies turned violent.
Palestinian activists have called for a "Global March to Jerusalem" to mark the day when Israeli Arabs protest against government policies that they say has stripped them of land.
Arab news channel
Al Jazeera
reported in a live blog on its website that the Israeli army was "pushing protesters back towards Ramallah with the use of tear gas and water cannons".
It also reported that there are close to 1,000 protestors gathered in Ramallah.
Israeli forces were put on high alert at frontier crossings with Lebanon and Syria but there were no reports of any protesters nearing the border fences, unlike
last year when several demonstrators were killed
there in Land Day protests.
However, violence flared at checkpoints in the occupied West Bank to the north and south of Jerusalem. Witnesses also reported disturbances at gates leading into the Old City, with police looking to limit access to the revered al-Aqsa Mosque.
A Reuters reporter saw two men being carried away injured after scuffles at Jerusalem's Lions' Gate, while police said they had made several arrests at the nearby Damascus Gate.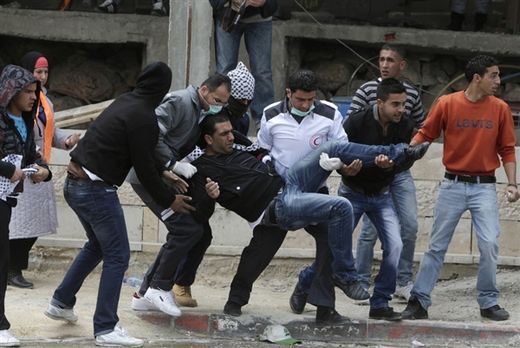 Jerusalem is a focal point of conflict, as Palestinians want the city's eastern sector, captured by Israel in a 1967 war, as capital of a future state. Israel has annexed East Jerusalem as part of its capital and insists the city remain united.
"We are determined to march together toward Jerusalem, and hopefully we will break through and reach it," said a masked youth, calling himself Rimawi, as he faced off against soldiers in the West Bank city Ramallah, a short distance from Jerusalem.
Flag-waving crowds neared the Qalandiya crossing out of Ramallah, some of them hurling stones at the security forces, but were forced back when
border police sprayed them with foul-smelling liquid from a water cannon
.
Land Day commemorates the killing by security forces of six Arabs in 1976 during protests against government plans to confiscate land in northern Israel's Galilee region.
Arabs make up about a fifth of Israel's total population. Many complain of discrimination. Israeli Prime Minister Benjamin Netanyahu has recently called for improved efforts to integrate Arab citizens into Israel's work force.
Reuters contributed to this report.