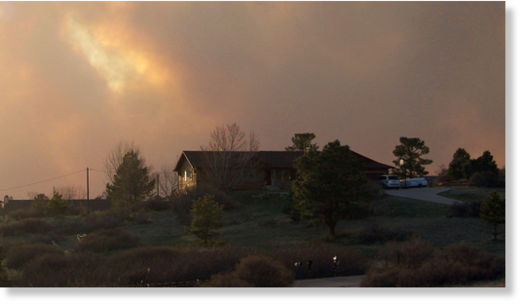 US: Conifer, Colorado - One person has been found dead in a Colorado wildfire that burned more than 4½ square miles and destroyed at least five homes in the mountains southwest of Denver, authorities said Monday.
The victim's name wasn't immediately released and investigators haven't said how the person died.
The fast-moving wildfire was reported at midday Monday and spread quickly amid dry, windy weather.
"We're in a defensive mode, structure protection only," Jefferson County Sheriff's spokeswoman Jacki Kelley said. "We're not really fighting the fire right now."
Kelley said authorities don't know how many houses were lost but said it was at least five and probably more than 10.
Authorities ordered residents of more than 900 homes to evacuate.
There were no other reports of injuries, but a sheriff's deputy who was alerting residents to leave was trapped in his patrol car after he inadvertently drove into a ditch in the thick smoke, Kelley said. He summoned help by radio.
Up to a dozen smaller fires were reported from the northeast Colorado plains to the southern part of the state. There were no immediate reports of injuries or structures destroyed in any of the other fires.
The largest fire was burning about 25 miles southwest of Denver in a rugged, largely rural area where the altitude ranges from 7,000 to 8,200 feet. The region of pines and grassland is dotted with hamlets and the occasional expensive home. It is several miles - and mountain ridges - west of Denver's tightly populated southwestern suburbs, which weren't threatened.
The fire apparently flared up from a prescribed burn conducted in the area last week, Kelley said. Prescribed burns are usually done to thin out vegetation in hopes of reducing the chances of a major wildfire.
About 100 firefighters were expected to spend the night protecting homes. Officials were calling in help from as far away as Arizona and hoped to be able to have air tankers drop fire retardant on the flames Tuesday.
Shelters were set up in two high schools and the Red Cross said it was preparing to send cots and blankets.
Jan Quigley said she and her husband were "just in a dither" after they got an automated phone call telling them to evacuate. They grabbed clothes, a backup computer drive and tax records and left.
"I'm hopeful it will be OK," she said.
The National Weather Service said sustained winds of up to 40 mph hit the fire area with gusts up to 55 mph, but they began to die down after sunset.
"But it's so dry out there now that even a 15- to 20-mph wind is going to spread the fire," said weather service meteorologist Bob Kleyla.
Billows of smoke were visible from downtown Denver. Kleyla said weather radar showed the smoke plume had drifted about 100 miles to the northeast by nightfall, and state health officials warned smoke could linger and affect air quality until Tuesday afternoon.
Rep. Mike Coffman, R-Colo., offered condolences to families whose homes were destroyed and said he will work to get federal firefighting teams and equipment if Jefferson County Sheriff Ted Mink requests them.
Another fire was burning near Lookout Mountain west of Denver, where homes dot the forest along a steep, winding road with spectacular views. The sheriff's department said residents of two homes were asked to evacuate.
The fire burned 30 to 50 acres before it was contained late Monday.
The Colorado Department of Emergency Management said small grass fires ignited in Morgan, Logan and Weld counties on the northeast Colorado plains. Winds on the plains were gusting to 50 mph.
Denver airport officials said high winds delayed arriving and departing flights by up to 60 minutes Monday night.
Pueblo County in southern Colorado reported nine small fires ranging from debris piles to a car destroyed in an auto body shop after embers from a trash fire spread to the building.
Source: The Associated Press