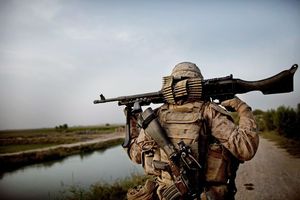 Report cites sustained combat, redeployments
A recent Army health report draws an alarming profile of a fighting force more prone to inexcusable violence amid an "epidemic" of post-traumatic stress disorder (PTSD), the mental breakdown attracting speculation as a factor in a massacre of Afghan civilians this month.
Based on an exhaustive study of nearly 500,000 soldiers, reservists and veterans, the report finds that troops are more likely to commit suicide and violent sex offenses, and notes that as many as 236,000 suffered from PTSD since the beginning of the wars in Afghanistan and Iraq.
For military analysts, the reason is the nightmarish experience of sustained combat: Soldiers have been fighting the longest war in U.S. history, with frequent stressful deployments and compressed rest time back home.
"The real issue here, which I've been tracking for a long time, is 10 years of combat," said military analyst Robert Maginnis, a retired Army officer.
"I see these kids who have been in combat year after year after year. It is taking a real toll, not only medical, but being able to sort out their lives. What this kid caved to I think could be an epidemic. It is really long term what we are doing to a generation of volunteers."
Army Staff Sgt. Robert Bales, 38, is accused of killing 16 Afghan civilians on March 11 in a nighttime shooting spree through three villages near his base. He has been detained at Fort Leavenworth, Kan., since Friday.
His attorney, John Henry Browne, said late Monday that Sgt. Bales remembers very little about the night during which he is accused of killing the villagers and burning some corpses.
Combat stress
Sgt. Bales, of Lake Tapps, Wash., had gone on three, yearlong deployments to Iraq, encountering heavy fighting and witnessing death and destruction.
His experience and those of thousands of his colleagues are common in what has become not only the longest war but also the unkindest for troops, in terms of rest time in theater.
Fighting insurgents and terrorists in Afghanistan and Iraq has been a nearly nonstop exercise in patrols, raids and firefights with no real battle lines. Even at a forward operating base, soldiers can be hit by a rocket, a suicide bomber or an Afghan who turns and starts shooting Americans.
The Army report, "Generating Health and Discipline In the Force," notes that the average infantryman in World War II in the South Pacific experienced a total 40 days of combat during the entire war.
"In contrast, the [operational tempo] in Iraq and Afghanistan over the past decade has remained persistently high, providing very few opportunities for individuals to rest, either physically or mentally," the report says.
Among the professionals taking note of the Army's "epidemic" of post-traumatic stress disorder are the lawyers who end up defending soldiers who commit irrational acts.
Take the case of Army Sgt. Joseph Bozicevich.
On his second tour of combat in Iraq, Bozicevich turned his gun on his squad leader and another sergeant, killing them both at a base south of Baghdad in 2008.
Prosecutors argued that he snapped when the two sergeants criticized his performance, and a military jury last year convicted him of two counts of premeditated murder.
His attorney, Charles Gittins, cited a PTSD diagnosis in arguing that his client should be spared the death penalty. The jury sentenced him to life in prison.
"The stress of the combat environment and witnessing death and destruction on a daily basis can be psychologically damaging," Mr. Gittins told The Washington Times.
"When war fighters make repeated deployments, the chances of incurring serious psychiatric symptoms skyrockets and is reflected in the thousands of cases of PTSD diagnosed both in the military and by the [Department of Veterans Affairs] among the veterans of Iraq and Afghanistan."
Neal Puckett, another prominent military defense lawyer, said: "It's been my experience in representing Marines and soldiers since the war began in late 2001 that frequent and extended deployments can wear down an individual's patience and tolerance for boredom as well as for danger."
"I believe that veterans of three, four and even five deployments are markedly different than the people they were before their first tour," Mr. Puckett said. "The services have been concerned about this for several years, but I believe they have failed to effectively deal with it."
Distrust all around
In Sgt. Bales' case, military officials have said he was drinking alcohol before the rampage, and records show he owes $1.5 million in a decade-old arbitration ruling that found him guilty of securities fraud.
Mr. Browne, the attorney who met Sgt. Bales for the first time Monday, said his client gave a powerfully moving account of what it is like to be on the ground in Afghanistan.
"You read about it. I read about it. But it's totally different when you hear about it from somebody who's been there," Mr. Browne told the Associated Press. "It's just really emotional."
Last year, a behavioral scientist attached to the U.S. command in Kabul issued a report, "A Crisis of Trust and Cultural Incompatibility." Author Jeffrey Bordin culled the findings of both American and Afghan focus groups to conclude that each side distrusts the other.
One soldier said of Afghan security forces: "We are always sensitive to their religious practices, but if there's a work project that needs to be done, you can count on it also being their prayer time."
A previous study of Afghan civilians in eastern portion of the country near the Pakistani border revealed a "widespread level of extremist religious thought," including a belief that suicide bombers are martyrs.
The report said one reason often cited by Afghan civilians for siding with insurgents over government troops is "the latter's propensity to seize their little boys at checkpoints and sexually assault them."
Mr. Bordin also uncovered deep distrust of Afghan civilians. American soldiers, he wrote, "were repulsed by the abuse and neglect they observed in how children are treated in Afghan society. U.S. soldiers largely reported that they did not care for Afghan civilians due to these factors as well as their suspected sympathies for the insurgents."
The command authorized Mr. Bordin's field study after six U.S. soldiers were killed by an Afghan insider in what the study later said was "one of the worse mass-murder incidents ever suffered by U.S. military forces."
Seven U.S. service members were killed by Afghan security personnel during last month's protest of American soldiers burning Korans that detainees had used to pass messages.
Before the Army completed its landmark "Generating Health and Discipline" research, it conducted a so-called "red book" assessment because of the high number of suicides and PTSD cases.
The Army said the red book "discovered a growing high-risk population of soldiers engaging in criminal and high-risk behavior with increasingly more severe outcomes including violent crime, suicide attempts and suicide, and accidental death."
Last year, 280,000 soldiers sought help from behavior health practitioners, the Army says.