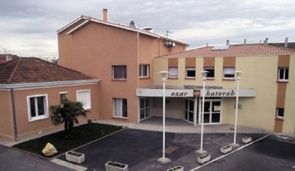 Security tightened at all Jewish schools in the country after gunman opened fire outside Ozar Hatorah school, Toulouse
At least three people have died, including two children, in a shooting outside a Jewish school in the French city of Toulouse on Monday morning, French media have reported.
One witness indicated that a gunman opened fire outside a private Jewish secondary school in the southern French city before fleeing on the back of a black scooter.
Five people were injured in the attack, which occurred as students were arriving for morning classes at the Ozar Hatorah school, a city official told Reuters.
Interior minister Claude Gueant broke off a visit in northeastern France to head for Toulouse, the police source said. French media reported that security was being tightened at all Jewish schools in the country.
It was not immediately clear whether police were linking the attack to
a series of "ride-by" shootings of soldiers
in the area last week, in which three paratroopers were killed in two incidents by a gunman who made a getaway on a motorbike.
The three members of a parachute regiment were shot in the busy town centre of Montauban, 46km south of Toulouse, on Thursday afternoon. Two died on the spot, while the third was in a critical condition in hospital.
The previous Sunday in a suburb of Toulouse, an off-duty member of another regiment was shot in the head at point blank range by a gunman on a scooter.
Imad Ibn-Ziaten
, 30, a marshall in the 1st Parachute Regiment, was standing next to his Suzuki 650cc motorbike outside a gym and had been wearing his helmet at the time; he was not in uniform.
The police are still hunting for the motorbike gunman thought to be behind last week's soldiers' killings, who media reported had a tattoo or scar on his left cheek.