Suspected drunk driver wins $22m after he was forgotten, isolated - and terribly neglected.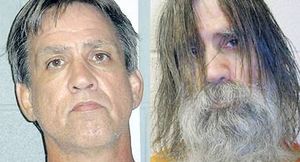 Stephen Slevin was driving along a rural highway in southern New Mexico in August 2005 when traffic police pulled him over and arrested him on suspicion of drink-driving, along with a string of other motoring offences.
By the time all of the charges against him were dismissed and Mr Slevin was released from custody, it was 2007. For reasons that remain unclear, officials had forced him to spend the intervening two years in solitary confinement.
During the ordeal, he claims to have been denied access to basic washing facilities for months at a time. He'd lost a third of his body weight, grown a beard down to his chest and was suffering from bed sores. Prison officials had also ignored his pleas to see a dentist, forcing him to pull out his own tooth. They declined other requests for attention, including an audience with a mental health professional. He duly became delirious and says that by the time of his release he'd "been driven mad".
This week, a jury in Albuquerque ordered Dona Ana County, which was responsible for incarcerating Slevin without trial, to pay $22m (£14m) in compensation.
It was the largest award ever granted to a US prisoner whose civil rights have been violated.
"Prison officials were walking by me every day, watching me deteriorate," MrSlevin, who still from suffers post traumatic stress disorder, told reporters. The court heard how he was originally arrested on suspicion of drink-driving and "receiving a stolen vehicle". He was thrown into solitary confinement after officers learned that he suffered from depression and decided he might be suicidal.
Matthew Coyte, a civil-rights lawyer who represented Mr Slevin, now 58, during the six-day trial, said he was then "forgotten" and left to "decay".
In letters to staff at Dona Ana County Jail, Mr Slevin claimed to be depressed and unable to sleep in the solitary "pod" there. As time went on, he told them he'd begun hallucinating. No doctor was called, but at the behest of a prison nurse, who had a bachelor's degree in psychology but no medical qualifications, he was given some sedatives. It wasn't until June 2007 that Mr Slevin went before a judge, at which point he was immediately released into the mental health system on the grounds that he was by then incapable of participating in his own defense.
The case throws an uncomfortable light on the use of solitary confinement in the US justice system. At present, an estimated 50,000 inmates are housed in such circumstances, sometimes for years at a time. Dona Ana County had previously offered Mr Slevin $2m to drop his compensation case. It pledged to appeal the $22m award, saying: "we believe we have strong legal issues to raise."