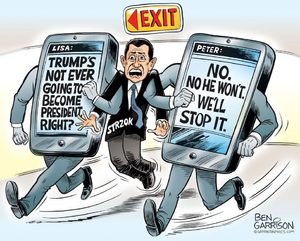 Strzok has left the building
What is truth anyway? The truth is the essence of something, its natural state, something as it really is. For me, it is really a quest for love, because to truly love something I must know it for what it really is. Perhaps we can sense in an unconscious way that there is a deeper truth to everything and everyone, and we are led to search for the truth about it, so that we can truly love it for what it really is.
- Joe Quinn
Recent Comments
You mean all the debris everywhere from whoever lived there a long long time ago? Yeah I wish they would too! But this is from NASA, probably...
---
Scratching his nutz I would say. The dogmen have been here all along. Your GOV thinks you are too childish to know about all sorts of stuff.
---
I AM NOT AN OCCULT VVVVIITTTCHH!!... Ding dong
---
Vatican city is one tiny country devoted entirely to Satan using Jesus as a cover. lol
---
Seems that evaded the topic of global magma flows... 'horns' and all.... perhaps headed towards the West Coast?