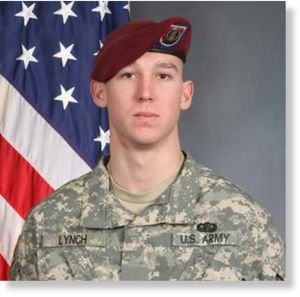 A former Army soldier who was convicted of killing his wife and baby daughter shortly after returning from combat in Afghanistan was sentenced on Friday to 80 years in prison for the crimes.
Kip Lynch, 22, was found guilty last summer of first degree murder in the April 2010 shooting death of his 19-year-old wife Racquell and second-degree murder of their 8-month old baby, Kyirsta.
Lynch shot his wife numerous times in the back, head and neck while she was holding their infant daughter, according to police reports.
The bullets passed through her body, killing both mother and child, according to police reports. Lynch then turned the gun on himself in an apparent suicide attempt, but survived.
The bodies of his wife and baby remained in the family's Anchorage apartment for a weekend before they were discovered.
Lynch was found in critical condition but recovered.
At the two-day sentencing hearing at a state superior court, Lynch's public defender said the former soldier had served valiantly in combat but struggled with post traumatic stress upon returning home.
Lynch was stationed at Joint Base Elmendorf-Richardson in Anchorage at the time of the incident, which occurred just two months after he returned from a year-long deployment to Afghanistan.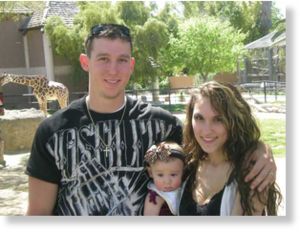 Judge Michael Spaan, who imposed the sentence, concluded that Lynch's combat experience affected the former military policeman's actions.
"I believe that Mr. Lynch's service in Afghanistan was a factor," Spaan said.
But Spaan said it was unclear whether the shooting was a direct result of war-related mental problems.
"I don't even know if you had post traumatic stress, if you're still suffering from it, and what impact this might have in 20 years. The science is not exact enough to answer these questions," the judge told Lynch at sentencing.
The mother of Racquell Lynch testified by telephone at the hearing, asking for a harsh sentence.
"I accept full responsibility for what happened to my wife and daughter," Lynch said in court, reading from a statement of apology. "They will forever be in my heart."
The maximum penalty that could have been imposed on Lynch was 198 years, 99 years for each murder, under Alaska law.