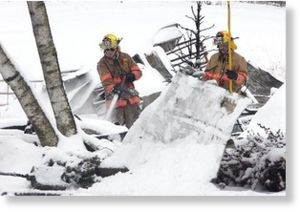 Authorities say a fast-moving fire destroyed a barn owned by a noted New Jersey equestrian family, killing 22 show horses worth tens of thousands of dollars each.
State Police Sgt. Brian Polite says the barn was engulfed in flames when troopers arrived around 1:40 a.m. Saturday in Lafayette. The blaze was soon extinguished, but all the horses inside were killed.
Betty Hahn, whose family owns the barn,
tells The Star-Ledger
that the animals were valued at $10,000 to $60,000 apiece. Her family has competed and won awards in equestrian competitions along the East Coast.
She said no hay or fuel was stored in the barn, so she's baffled about how the blaze began.
Officials would not say whether they considered the blaze suspicious, citing the ongoing investigation.