A fire tore through a private home being rented by Marist College students near campus early Saturday morning, killing three people, authorities said.
The victims were identified as two female Marist students in their early 20s and one male, who was not a student at the school. Their names have not been released. Four other people in the house escaped without serious injuries.
Marist College postponed two basketball games "out of respect for the students affected by this tragedy," Deborah DiCaprio, Marist's vice president and dean for student affairs, said in a statement Saturday.
The off-campus house on Fairview Avenue was being rented by six female Marist students, Town Police Chief Thomas Mauro said.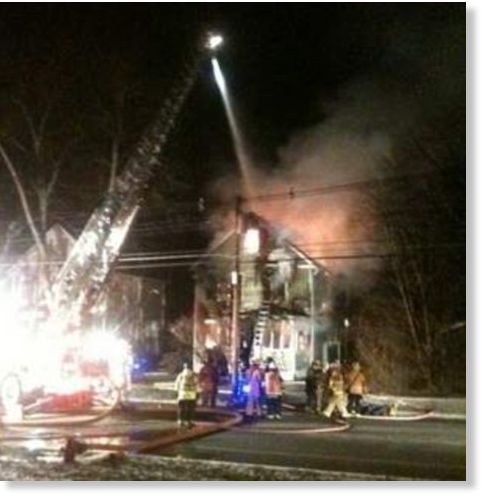 At the time that the fire was initially called into 911 by a passer-by at about 1:30 a.m., Mauro said seven people were in the house - four residents and three male guests.
The police chief said the group had gone to bed about an hour before the fire was called into authorities. "There was no issue that they were aware of in the house when they went to bed," he said, basing his comments on interviews with the four survivors.
At least two people jumped through a window to safety after realizing that the house was engulfed in flames, he said.
The first firefighters to respond to the emergency call tried to get into the house, but were forced back by the heat and flames, said Chris Maeder, chief of the Fairview Fire District, one of a handful of agencies that responded to the emergency call.
One victim was found on the second floor of the house, one was downstairs and the third was under "considerable collapsed debris," the police chief said. The four survivors were taken to a hospital, where they were treated and released.
They were treated for minor smoke inhalation and other minor injuries and were able to debrief police.
The cause of the fire remains under investigation. Maeder said the fire is believed to have started in the rear of the first floor.